By Richard W. Pfaff (NHC Fellow, 1996–97)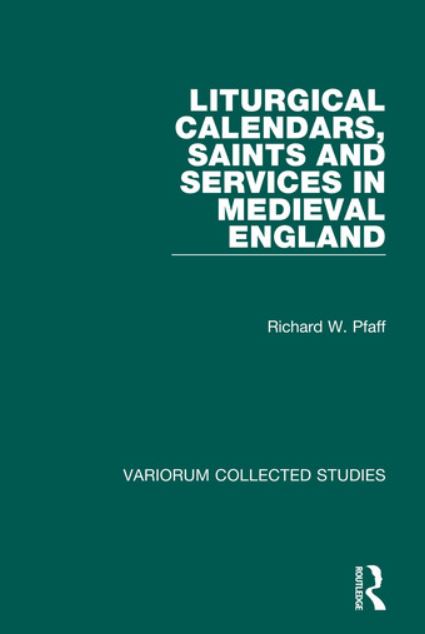 Farnham, UK: Ashgate, 1998
From the publisher's description:
This book includes four hitherto unpublished papers together with a substantial introductory historiographical and bibliographical overview. Many of the studies concern the liturgical views of figures like Lanfranc, St Hugh of Lincoln, and William of Malmesbury (an edition of William's Abbreviatio Amalarii is included) and the ways Thomas Becket and the Venerable Bede were viewed liturgically. Others reveal the achievement of an 11th-century Canterbury scribe, lay out a hagiographical puzzle as to the saints venerated on the 19th January, ask why calendars come to be attached to psalters, demonstrate that monks at Canterbury Cathedral were still reading Old English homilies in the 1180s, and present a fascinating, previously misunderstood, psalter owned by bishop Ralph Baldock, c.1300. Two final papers deal with 'Sarum' services in late medieval parish churches and with the devotional practice called St Gregory's Trental.
Subjects
Religion
/
History
/
History of Christianity
/
Hagiography
/
Historiography
/
Middle Ages
/
Liturgy
/
Catholic Church
/
British History
/
---
Pfaff, Richard W. (NHC Fellow, 1996–97). Liturgical Calendars, Saints, and Services in Medieval England. Variorum Collected Studies Series. Farnham, UK: Ashgate, 1998.