By John Sitter (NHC Fellow, 1978–79)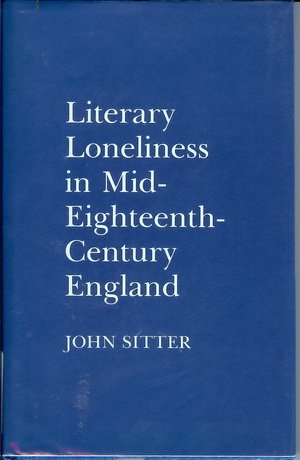 Ithaca, NY: Cornell University Press, 1982
From the publisher's description:
Studying the poetry, fiction, and nonfiction of the mid-eighteenth century, Sitter attempts to characterize the authors' shared pursuits and preoccupations. He focuses on what he calls literary loneliness—the emerging concept of the isolated writer who creates for a solitary reader, a writer who strives for a "pure poetry" unconnected to political and historical particulars. Tracing the literary changes that took place during the period, Sitter studies the early works of David Hume and the increasingly visionary writings of William Law; he considers the profound and puzzling break with the past manifested in contemporary poetry; and he analyzes the similar artistic premises and authorial difficulties apparent in the longer poems of Thomson, Young, and Akenside, and in the last novels of Richardson and Fielding. Their literary assumptions are still part of our critical tradition, Sitter says, and in his conclusion he notes some significant correspondences between mid-eighteenth-century literature and twentieth-century criticism.
Awards and Prizes
Louis Gottschalk Prize (1983)
Subjects
Literature
/
Literary Criticism
/
Loneliness
/
British Literature
/
Emotions
/
---
Sitter, John (NHC Fellow, 1978–79). Literary Loneliness in Mid-Eighteenth-Century England. Ithaca, NY: Cornell University Press, 1982.