Edited by Marie Drew-Bear (NHC Fellow, 1986–87), François Chausson, and Herwig Maehler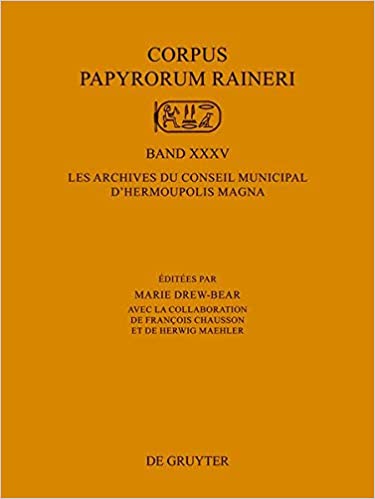 Berlin: De Gruyter, 2020
From the publisher's description:
This book has a double purpose: to edit, using papyri in the Austrian National Library, a municipal archive of Hermoupolis Magna known only by the handwritten transcriptions of C. Wessely in 1905 (Stud. Pal. V) without translation or commentary; and to reveal, using this firsthand source from an Egyptian metropolis with close ties to the emperor Gallienus, the contrasted situation between 264 and 268, just before his assassination.
Subjects
History
/
Classics
/
Primary Sources
/
Archives
/
Egyptian History
/
Roman Empire
/
Gallienus
/
---
Drew-Bear, Marie (NHC Fellow, 1986–87), ed. Les Archives du Conseil Municipal d'Hermoupolis Magna. 2 vols.. Edited by Marie Drew-Bear, François Chausson, and Herwig Maehler. "Corpus Papyrorum Raineri, XXXV". Berlin: De Gruyter, 2020.