Edited by William James Booth (NHC Fellow, 1987–88) and Ronald Beiner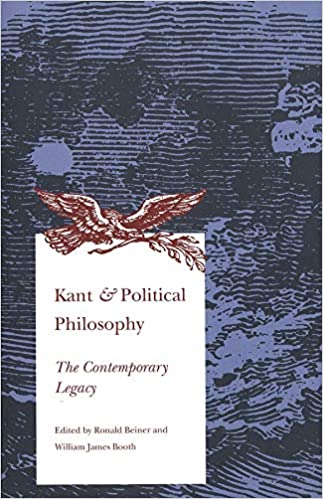 New Haven, CT: Yale University Press, 1993
From the publisher's description:
In recent years there has been a major revival of interest in the political philosophy of Immanuel Kant. Thinkers have looked to Kant's theories about knowledge, history, the moral self and autonomy, and nature and aesthetics to seek the foundations of their own political philosophy. This volume, written by established authorities on Kant as well as by new scholars in the field, illuminates the ways in which contemporary thinkers differ regarding Kantian philosophy and Kant's legacy to political and ethical theory.

The book contains essays by Patrick Riley, Lewis White Beck, Mary Gregor, and Richard L. Velkley that place Kant in the tradition of political philosophy; chapters by Dieter Henrich, Susan Shell, Michael W. Doyle, and Joseph M. Knippenberg that examine Kantian perspectives on history and politics; contributions by William A. Galston, Bernard Yack, William James Booth, and Ronald Beiner that judge the Kantian legacy; and classic discussions by John Rawls, Jürgen Habermas, Charles Taylor, and Hans-Georg Gadamer that present different perspectives on contemporary debates about Kant.
Ronald Beiner is professor of political science at the University of Toronto. William James Booth is associate professor of political science at McGill University.
Subjects
Philosophy
/
Political Philosophy
/
Intellectual History
/
Immanuel Kant
/
---
Booth, William James (NHC Fellow, 1987–88), ed. Kant and Political Philosophy: The Contemporary Legacy. Edited by William James Booth and Ronald Beiner. New Haven, CT: Yale University Press, 1993.