By Maura Nolan (NHC Fellow, 2004–05)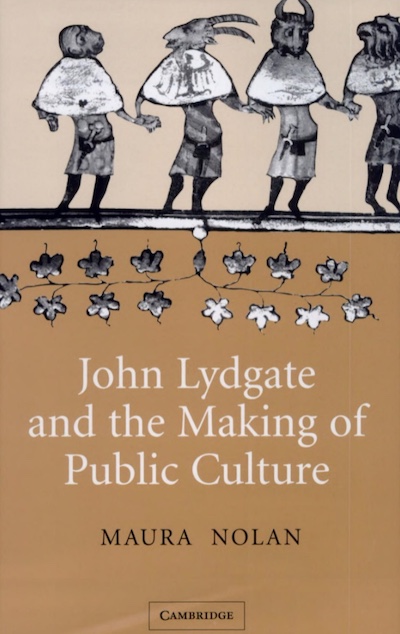 Cambridge, UK: Cambridge University Press, 2005
From the publisher's description:
Inspired by the example of his predecessors Chaucer and Gower, John Lydgate articulated in his poetry, prose and translations many of the most serious political questions of his day. In the fifteenth century Lydgate was the most famous poet in England, filling commissions for the court, the aristocracy, and the guilds. He wrote for an elite London readership that was historically very small, but that saw itself as dominating the cultural life of the nation. Thus the new literary forms and modes developed by Lydgate and his contemporaries helped shape the development of English public culture in the fifteenth century. Maura Nolan offers a major re-interpretation of Lydgate's work and of his central role in the developing literary culture of his time. Moreover, she provides a wholly new perspective on Lydgate's relationship to Chaucer, as he followed Chaucerian traditions while creating innovative new ways of addressing the public.
Subjects
Literature
/
Literary Criticism
/
Middle Ages
/
Cultural Studies
/
Medieval Literature
/
John Lydgate
/
---
Nolan, Maura (NHC Fellow, 2004–05). John Lydgate and the Making of Public Culture. Cambridge Studies in Medieval Literature. Cambridge, UK: Cambridge University Press, 2005.