By Laura Suzanne Lieber (NHC Fellow, 2015–16)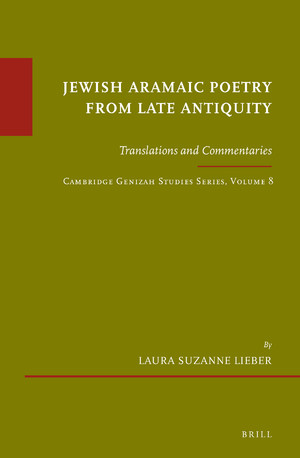 Leiden, Netherlands: Brill, 2018
From the publisher's description:
In Jewish Aramaic Poetry from Late Antiquity, Laura Suzanne Lieber offers annotated translations of sixty-nine poems written between the 4th and 7th century C.E. in the Land of Israel, along with commentaries and introductions. The poems celebrate a range of occasions from the ritual year and the life-cycle: Passover, Shavuot (Pentacost), the Ninth of Av, Purim, the New Moon of Nisan, the conclusion of the Torah, weddings, and funerals.

Written in the vernacular of the Jews of living in Palestine after the Christianization of the Roman Empire, these works offer insight into lived Jewish experience during a pivotal age. The volume contextualizes the individual works so that readers from a range of backgrounds can appreciate the formal, linguistic, exegetical, theological, and performative creativity of these works.
Subjects
Literature
/
Religion
/
Aramaic Literature
/
Poetry
/
Judaism
/
---
Lieber, Laura Suzanne (NHC Fellow, 2015–16). Jewish Aramaic Poetry from Late Antiquity: Translations and Commentaries. Études sur le Judaïsme Médiéval. Leiden, Netherlands: Brill, 2018.