By Lochlann Jain (NHC Fellow, 2005–06)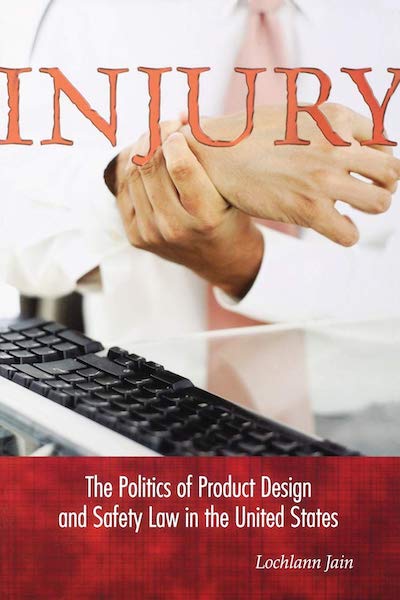 Princeton, NJ: Princeton University Press, 2006
From the publisher's description:
Injury offers the first sustained anthropological analysis and critique of American injury law. The book approaches injury law as a symptom of a larger American injury culture, rather than as a tool of social justice or as a form of regulation. In doing so, it offers a new understanding of the problematic role that law plays in constructing Americans' relations with the objects they consume.

Through lively historical analyses of consumer products and workplace objects ranging from cigarettes to cheeseburgers and computer keyboards to airbags, Lochlann Jain lucidly illustrates the real limits of the product safety laws that seek to redress consumer and worker injury. The book draws from a wide range of materials to demonstrate that American law sets out injury as an exceptional state, one that can be redressed through imperfect systems of monetary compensation. Injury demonstrates how laws are unable to accommodate the ways in which physical differences among citizens are imposed by the physical objects of culture that distribute risk differently among populations. The book moves between detailed accounts of individual legal cases; historical analyses of advertising, product design, regulation, and legal history; and a wide reading of cultural theory.

Drawing on an extensive knowledge of law and social theory, this innovative book will be essential reading for anyone with an interest in design, consumption, and the politics of injury.
Subjects
History
/
Law
/
Anthropology
/
Legal History
/
Physical Trauma
/
---
Jain, Lochlann (NHC Fellow, 2005–06). Injury: The Politics of Product Design and Safety Law in the United States. Princeton, NJ: Princeton University Press, 2006.