Joseph, Gilbert M. (Fellow, 1992-93); Szuchman, Mark D., ed.
Wilmington, DE: Scholarly Resources, 1996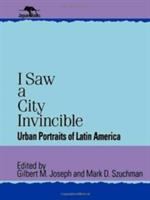 From the publisher's description:
When the Spaniards settled in Latin America, they immediately surrounded themselves with cities. Equating civilization with urban existence, the early conquerors of the New World rapidly established themselves as urban lords. Latin American cities then became synonymous with Spanish power and all of its privileged attributes: political authority, ecclesiastical activity, commerce, finance, and conspicuous consumption. This volume represents some of the most enduring reflections on the Latin American city. All of the essays were written by public officials, journalists, and social commentators, among others, who participated actively in the affairs of the cities they so perceptively describe. The collection offers critical analyses spanning hundreds of years, beginning with the era of the conquistadores in Tenochtitl_n and continuing to the deafening bustle of today's urban crowds in Mexico City. Professors Gilbert Joseph and Mark Szuchman offer translations of classic pieces by writers previously little known to Western audiences: Cobo, Garc_a, Santos Vilhena, and Leite de Barros.
---
Subjects: History; Spanish Occupation of Latin America; Latin American History; Urban History; Spanish Empire;