By Hermogenes
Edited and translated by Cecil W. Wooten (NHC Fellow, 1980–81)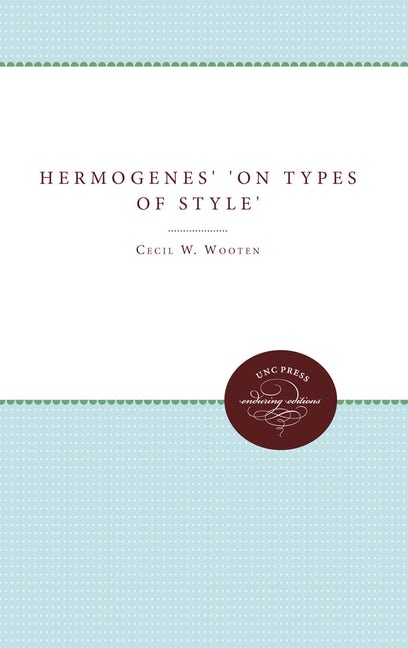 Chapel Hill: The University of North Carolina Press, 1987
From the publisher's description:
Cecil Wooten has produced the first translation into any modern langauage of a key treatise of the ancient world. He provides a faithful English translation of Hermogenes' analysis based on a reliable Greek text established by Rabe at the beginning of this century and includes a substantial scholarly introduction and notes that will help the reader better understand Hermogenes, his exposition, and the historical and cultural context in which it was produced.
Hermogenes' work is both systematic and complex. He outlines, with almost mathematical precision, seven basic types of ideal forms of style -- Clarity, Grandeur, Beauty, Rapidity, Character, Sincerity, and Force -- some of which he breaks down into subtypes. Wooten explains how the stylistic system works, what it has in common with other systems developed in antiquity, and the special problems it presents to the translator.
Wooten also provides two short essays. The first compares the system of stylistic analysis developed by Hermogenes with those of earlier critics, in particular Cicero and Dionysius of Halicarnassus. A single passage of Demosthenes is analyzed according to these three systems in order to illustrate how Hermogenes' system best captures its subtleties and nuances. The second essay discusses Hermogenes' concept of panegyric oratory and how it relates to the larger problem of secondary rhetoric.
This translation makes On Types of Style accessible to classicists as well as Byzantinists, students and scholars of the Renaissance, rhetoricians, and, more broadly, students of literary criticism at any level.
Subjects
Classics
/
Literary Criticism
/
Ancient Greek Literature
/
Ancient Greece
/
Classical Antiquity
/
Rhetoric
/
Writing Style
/
---
Wooten, Cecil W. (NHC Fellow, 1980–81), ed. and trans. Hermogenes' On Types of Style, by Hermogenes. Chapel Hill: The University of North Carolina Press, 1987.