By Charles Caramello (NHC Fellow, 1984–85)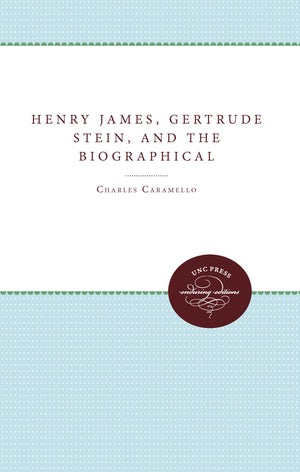 Chapel Hill: The University of North Carolina Press, 1996
From the publisher's description:
Focusing on biographical portraiture, Charles Caramello argues that Henry James and Gertrude Stein performed biographical acts in two senses of the phrase: they wrote biography, but as a cover for autobiography. Constructing literary genealogies while creating original literary forms, they used their biographical portraits of precursors and contemporaries to portray themselves as exemplary modern artists. Caramello advances this argument through close readings of four works that explore themes of artistry and influence and that experiment with forms of biographical portraiture: James's early biography of Nathaniel Hawthorne and his much later group biography, William Wetmore Story and His Friends, and Stein's celebrated Autobiography of Alice B. Toklas and her largely forgotten Four in America, which comprises biographies of Ulysses S. Grant, Wilbur Wright, Henry James, and George Washington. The first comparative study of these two great expatriate writers, Henry James, Gertrude Stein, and the Biographical Act addresses questions of art, influence, and literary culture by analyzing important biographical portraits that themselves address the same questions.
Subjects
History
/
Literary Criticism
/
Biography
/
Autobiography
/
Authors
/
Gertrude Stein
/
Henry James
/
---
Caramello, Charles (NHC Fellow, 1984–85). Henry James, Gertrude Stein, and the Biographical Act. Chapel Hill: The University of North Carolina Press, 1996.