By Bertram Wyatt-Brown (NHC Fellow, 1989–90; 1998–99)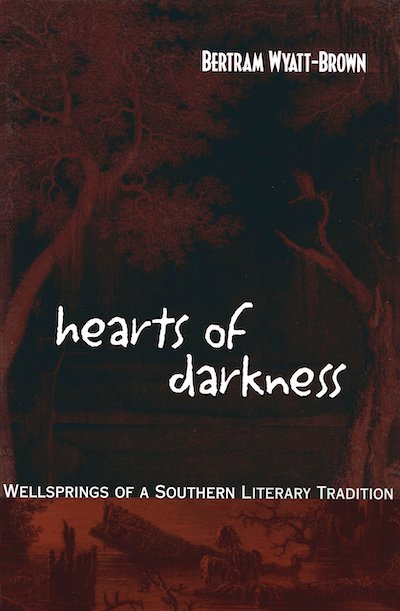 Baton Rouge: Louisiana State University Press, 2003
From the publisher's description:
From Edgar Allan Poe's "dark forebodings" to Kate Chopin's lifelong struggle with sorrow and loss, depression has shadowed southern letters. This beautifully realized study explores the defining role of melancholy in southern literature from the early nineteenth century to the early twentieth, when it evolved into modernist alienation.
While creativity and depression have been linked throughout Western history, Bertram Wyatt-Brown argues that nineteenth-century southern culture was hospitable to a distinctive melancholy that impelled literary production. Deeply marked by high death rates, social dread, and bitter defeat, white southerners imposed a climate of parochial pride, stifling conventions of masculinity, social condescension, and mistrust of intellectualism. Many writers experienced a conscious or unconscious alienation from the prevailing social currents. And they expressed emotional turmoil in and through their writing.
Hearts of Darkness develops original insights into the lives and creative impulses of both major and more obscure writers. Discussing individuals as diverse as William Gilmore Simms, Mark Twain, Constance Fenimore Woolson, Sidney Lanier, and Ellen Glasgow, Wyatt-Brown identifies a close association between creativity and psychological distress. This connection helps to explain southern literary engrossment with defeat and violence — together with a disposition for the romantic, gothic, and grotesque styles — well before William Faulkner and the male Southern Renaissance. Wyatt-Brown also finds that the first authors to break away from the sentimental modes to explore new psychological terrain were women whose depression ironically furnished them with critical dispassion.
A major reinterpretation of the South's fertile literary culture, Hearts of Darkness intensifies our regard for both southern writers and the fruits of pen and paper.
Subjects
Literature
/
Literary Criticism
/
American South
/
American Literature
/
Social History
/
Melancholy
/
Authors
/
---
Wyatt-Brown, Bertram (NHC Fellow, 1989–90; 1998–99). Hearts of Darkness: Wellsprings of a Southern Literary Tradition. The Walter Lynwood Fleming Lectures in Southern History. Baton Rouge: Louisiana State University Press, 2003.