By Robert L. Patten (NHC Fellow, 1987–88)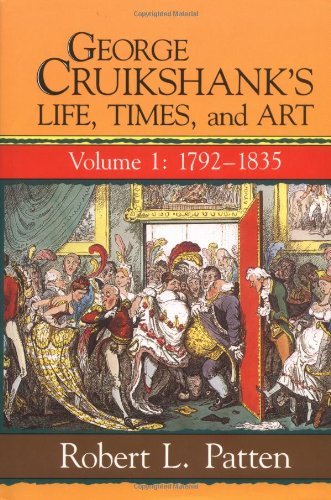 New Brunswick, NJ: Rutgers University Press, 1992
From the publisher's description:
The etchings and wood-engravings of George Cruikshank (1792-1878) recorded, commented on and satirised his times to such an extent that they have frequently been used to represent the age. Cruikshank, a popular artist in the propaganda war against Napoleon, an ardent campaigner for Reform and Temperance, and the foremost illustrator of such classics as Grimms' Fairy Tales, Scott's novels and Dicken's Oliver Twist, is known for his versatility, imagination, humour and incisive images. His long life, marked by a ceaseless struggle to win recognition for his art, intersected with the lives of many of Britain's important political, social and cultural leaders. In this first volume of Robert Patten's two-volume biography, which covers the artist's Regency caricatures and early book illustrations, Patten demonstrates the ways in which Cruikshank was, as his contemporaries frequently declared, the Hogarth of the nineteenth century. Having reviewed over 8,500 unpublished letters and most of Cruikshank's 12,000 or more printed images, Patten gives a thorough and reliable account of the artist's career. He puts Cruikshank's achievement into a variety of larger contexts - publishing history, political and cultural history, the traditions of figuration practised by Cruikshank's contemporaries, and the literary and social productions of nineteenth century Britain. This biography provides both the general reader and the specialist with a wealth of new information conveyed in lively, non-technical prose. Patten's book contributes to current investigation of the rich interactions between high art and low, texts and pictures, politics and imagination.
Awards and Prizes
Choice Outstanding Academic Title (1992)
Subjects
Art
/
Artists
/
Caricature
/
Etchings
/
Engraving
/
Satire
/
Cultural History
/
George Cruikshank
/
---
Patten, Robert L. (NHC Fellow, 1987–88). George Cruikshank's Life, Times, and Art. 2 vols. New Brunswick, NJ: Rutgers University Press, 1992.