By Ben Kiernan (NHC Fellow, 2006–07)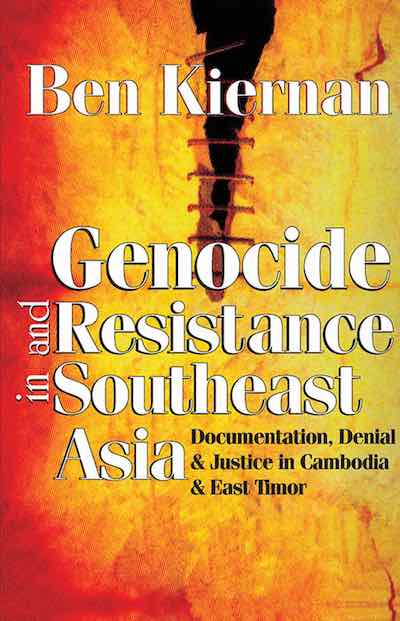 Edison, NJ: Transaction, 2007
From the publisher's description:
Two modern cases of genocide and extermination began in Southeast Asia in the same year. Pol Pot's Khmer Rouge regime ruled Cambodia from 1975 to 1979, and Indonesian forces occupied East Timor from 1975 to 1999. This book examines the horrific consequences of Cambodian communist revolution and Indonesian anti-communist counterinsurgency. It also chronicles the two cases of indigenous resistance to genocide and extermination, the international cover-ups that obstructed documentation of these crimes, and efforts to hold the perpetrators legally accountable.
The perpetrator regimes inflicted casualties in similar proportions. Each caused the deaths of about one-fifth of the population of the nation. Cambodia's mortality was approximately 1.7 million, and approximately 170,000 perished in East Timor. In both cases, most of the deaths occurred in the five-year period from 1975 to1980. In addition, Cambodia and East Timor not only shared the experience of genocide but also of civil war, international intervention, and UN conflict resolution. U.S. policymakers supported the invading Indonesians in Timor, as well as the indigenous Khmer Rouge in Cambodia. Both regimes exterminated ethnic minorities, including local Chinese, as well as political dissidents. Yet the ideological fuel that ignited each conflagration was quite different. Jakarta pursued anti-communism; the Khmer Rouge were communists. In East Timor the major Indonesian goal was conquest. In Cambodia, the Khmer Rouge's goal was revolution. Maoist ideology influenced Pol Pot's regime, but it also influenced the East Timorese resistance to the Indonesia's occupiers.
Genocide and Resistance in Southeast Asia is significant both for its historical documentation and for its contribution to the study of the politics and mechanisms of genocide. It is a fundamental contribution that will be read by historians, human rights activists, and genocide studies specialists.
Subjects
History
/
Political Science
/
Genocide
/
Communism
/
Political History
/
Resistance Movements
/
Justice
/
Timor-Leste
/
---
Kiernan, Ben (NHC Fellow, 2006–07). Genocide and Resistance in Southeast Asia: Documentation, Denial, and Justice in Cambodia and East Timor. Edison, NJ: Transaction, 2007.