By Jinhua Jia (NHC Fellow, 2014–15)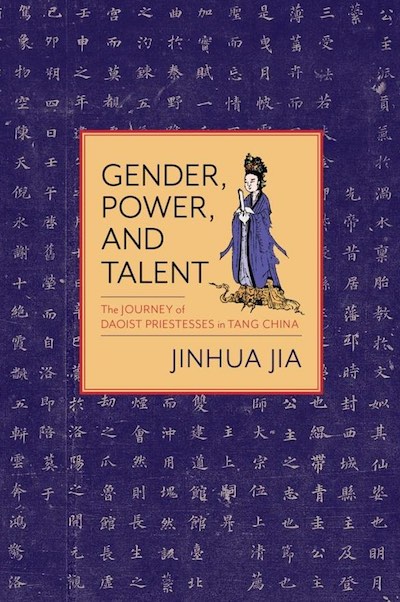 New York: Columbia University Press, 2018
From the publisher's description:
During the Tang dynasty (618–907), changes in political policies, the religious landscape, and gender relations opened the possibility for Daoist women to play an unprecedented role in religious and public life. Women, from imperial princesses to the daughters of commoner families, could be ordained as Daoist priestesses and become religious leaders, teachers, and practitioners in their own right. Some achieved remarkable accomplishments: one wrote and transmitted texts on meditation and inner cultivation; another, a physician, authored a treatise on therapeutic methods, medical theory, and longevity techniques. Priestess-poets composed major works, and talented priestess-artists produced stunning calligraphy.

In Gender, Power, and Talent, Jinhua Jia draws on a wealth of previously untapped sources to explain how Daoist priestesses distinguished themselves as a distinct gendered religious and social group. She describes the life journey of priestesses from palace women to abbesses and ordinary practitioners, touching on their varied reasons for entering the Daoist orders, the role of social and religious institutions, forms of spiritual experience, and the relationships between gendered identities and cultural representations. Jia takes the reader inside convents and cloisters, demonstrating how they functioned both as a female space for self-determination and as a public platform for both religious and social spheres. The first comprehensive study of the lives and roles of Daoist priestesses in Tang China, Gender, Power, and Talent restores women to the landscape of Chinese religion and literature and proposes new methodologies for the growing field of gender and religion.
Subjects
Religion
/
Gender and Sexuality
/
Tang Dynasty
/
Daoism
/
Women's History
/
Chinese History
/
---
Jia, Jinhua (NHC Fellow, 2014–15). Gender, Power, and Talent: The Journey of Daoist Priestesses in Tang China. New York: Columbia University Press, 2018.