Edited by Sara S. Poor (NHC Fellow, 2017–18), Alison L. Beringer, and Olga V. Trokhimenko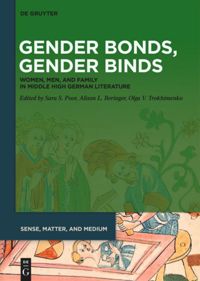 Berlin: De Gruyter, 2021
From the publisher's description:
While Gender Studies has made its mark on literary studies, much scholarship on the German Middle Ages is largely inaccessible to the Anglo-American audience. With gender at its core as a category of analysis, Gender Bonds, Gender Binds uniquely opens up medieval German material to English speakers. Recognizing the impact of Ann Marie Rasmussen's Mothers and Daughters in Medieval German Literature, this transatlantic volume expands on questions introduced in her 1997 book and subsequent work. More than a mere tribute, the collection moves the debates forward in new directions: it examines how gender bonds together people, practices, texts, and interpretive traditions, while constraining and delimiting these things socially, ideologically, culturally, or historically. As the contributions demonstrate, a close, materially focused analysis produces complex results, not easily reduced to a platitude. The essays steer a firm course through the terrain of gender bonds and binds, many of which remain challenging in the present. Herein lies the broader reach of this volume, for understanding the longevity of patriarchy and its effects on human relations demonstrates how crucial the study of the past can be for us as a society today.
Subjects
Gender and Sexuality
/
Literature
/
Medieval Literature
/
German Literature
/
Textual Criticism
/
Material Culture
/
Mothers and Daughters in Medieval German Literature
/
Ann Marie Rasmussen
/
---
Poor, Sara S. (NHC Fellow, 2017–18), ed. Gender Bonds, Gender Binds: Women, Men, and Family in Middle High German Literature. Edited by Sara S. Poor, Alison L. Beringer, and Olga V. Trokhimenko. Sense, Matter, and Medium. Berlin: De Gruyter, 2021.