Edited by Linda S. Kauffman (NHC Fellow, 1983–84)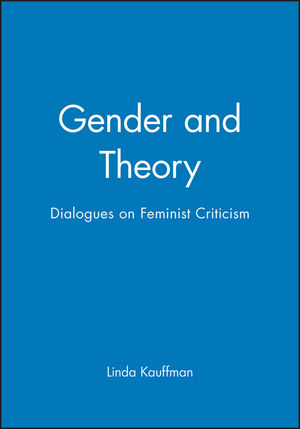 Oxford, UK: Basil Blackwell, 1989
From the publisher's description:
The political force of feminism cannot be separated from the theories which give it that force. An effective feminist literary criticism must negotiate its relationship to the dominant male voice of traditional practices. Can it change that voice for new ends, or is it robbed of purpose by the inevitably partiarchal nature of traditional discourse?
The essays in this book address this question in a complex set of exploratory dialogues between men and women. They open with interchanges on the philosophical foundations of feminist criticisms and questions about the mechanisms of representation. A second group of essays focus on the gendered body in the act of writing and on individual identity and experience in critical theory. Does theory elide questions of gender, race and class? Or does it help illuminate those differences by historicizing and politicizing the body? The further dialogues initiated here probe the network of relations between author, reader, critic and society in discussing the feminization of genres and the problematic of race.
Rather than striving for pluralistic consensus as they interrogate the relations of feminism and theory, the many voices presented here employ a dialogic model to create a productive and enlivening debate.
Subjects
Literature
/
Literary Theory
/
Gender and Sexuality
/
Feminism
/
Feminist Theory
/
Feminist Criticism
/
Gender Studies
/
---
Kauffman, Linda S. (NHC Fellow, 1983–84), ed. Gender and Theory: Dialogues on Feminist Criticism. Oxford, UK: Basil Blackwell, 1989.