By Elizabeth McHenry (NHC Fellow, 1998–99)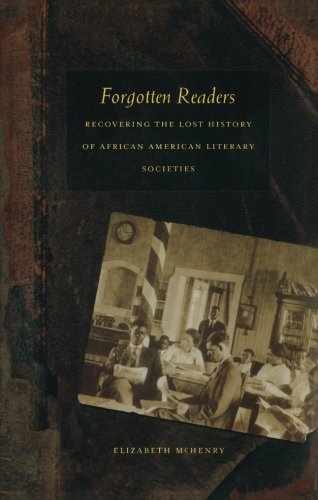 Durham, NC: Duke University Press, 2002
From the publisher's description:
Over the past decade the popularity of black writers including E. Lynn Harris and Terry McMillan has been hailed as an indication that an active African American reading public has come into being. Yet this is not a new trend; there is a vibrant history of African American literacy, literary associations, and book clubs. Forgotten Readers reveals that neglected past, looking at the reading practices of free blacks in the antebellum north and among African Americans following the Civil War. It places the black upper and middle classes within American literary history, illustrating how they used reading and literary conversation as a means to assert their civic identities and intervene in the political and literary cultures of the United States from which they were otherwise excluded.
Forgotten Readers expands our definition of literacy and urges us to think of literature as broadly as it was conceived of in the nineteenth century. Elizabeth McHenry delves into archival sources, including the records of past literary societies and the unpublished writings of their members. She examines particular literary associations, including the Saturday Nighters of Washington, D.C., whose members included Jean Toomer and Georgia Douglas Johnson. She shows how black literary societies developed, their relationship to the black press, and the ways that African American women's clubs—which flourished during the 1890s—encouraged literary activity. In an epilogue, McHenry connects this rich tradition of African American interest in books, reading, and literary conversation to contemporary literary phenomena such as Oprah Winfrey's book club.
Awards and Prizes
Black Caucus of the American Library Association Literary Award (2003); George A. and Jean S. DeLong Book History Book Prize (2003); Hurston/Wright Legacy Award (2003)
Subjects
History
/
Literature
/
African Americans
/
American Studies
/
American Literature
/
African American Literature
/
---
McHenry, Elizabeth (NHC Fellow, 1998–99). Forgotten Readers: Recovering the Lost History of African American Literary Societies. New Americanists. Durham, NC: Duke University Press, 2002.