By Andrea Frisch (NHC Fellow, 2004–05)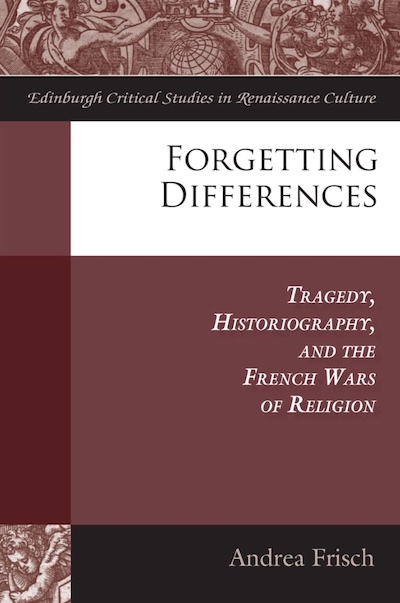 Edinburgh, UK: Edinburgh University Press, 2015
From the publisher's description:
By juxtaposing representations of the French civil war past as they appear (and frequently overlap) in historiography and tragedy from 1550-1630, Andrea Frisch tracks changes in the ways in which history and tragedy sought to 'move' readers throughout the period of the wars and in their wake. The book shows that a shift from a politically (and martially) active reading of the past to a primarily affective one follows the imperative, so clear and urgent at the turn of the seventeenth century, to put an end to violent conflict. The emotions that neoclassical tragedy and absolutist historiography sought to elicit were intended above all to be shared, and thus a medium via which political and religious differences could be downplayed or forgotten. The book aims to illuminate some of the ways in which the experience of the wars of religion, as registered in tragedy and historiography, contributed to a restructuring of the ever-vital relationship between emotion and politics, and thereby to historicize the very concept of 'esmouvoir'.
Subjects
Religion
/
History
/
Historiography
/
French History
/
Tragedy
/
Collective Memory
/
---
Frisch, Andrea (NHC Fellow, 2004–05). Forgetting Differences: Tragedy, Historiography, and the French Wars of Religion. Edinburgh Critical Studies in Renaissance Culture. Edinburgh, UK: Edinburgh University Press, 2015.