By Loring M. Danforth (NHC Fellow, 1986–87)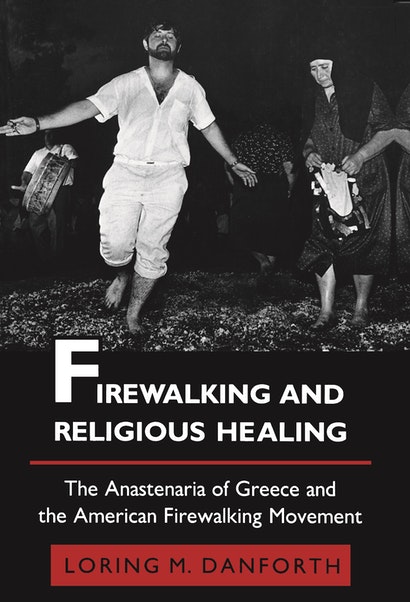 Princeton, NJ: Princeton University Press, 1989
From the publisher's description:
"If the Saint calls you, if you have an open road, then you don't feel the fire as if it were your enemy," says one of the participants in the Anastenaria. This compelling work evokes and contrasts two forms of firewalking and religious healing: first, the Anastenaria, a northern Greek ritual in which people who are possessed by Saint Constantine dance dramatically over red-hot coals, and, second, American firewalking, one of the more spectacular activities of New Age psychology. Loring Danforth not only analyzes these rituals in light of the most recent work in medical and symbolic anthropology but also describes in detail the lives of individual firewalkers, involving the reader personally in their experiences: he views ritual therapy as a process of transformation and empowerment through which people are metaphorically moved from a state of illness to a state of health. Danforth shows that the Anastenaria and the songs accompanying it allow people to express and resolve conflict-laden family relationships that may lead to certain kinds of illnesses. He also demonstrates how women use the ritual to gain a sense of power and control over their lives without actually challenging the ideology of male dominance that pervades Greek culture. Comparing the Anastenaria with American firewalking, Danforth includes a gripping account of his own participation in a firewalk in rural Maine. Finally he examines the place of anthropology in a postmodern world in which the boundaries between cultures are becoming increasingly blurred.
Awards and Prizes
Chicago Folklore Prize (1990); Choice Outstanding Academic Title (1991)
Subjects
Anthropology
/
Religion
/
Rituals
/
Healing
/
Spirituality
/
Cultural History
/
Greece
/
---
Danforth, Loring M. (NHC Fellow, 1986–87). Firewalking and Religious Healing: The Anastenaria of Greece and the American Firewalking Movement. Princeton Modern Greek Studies. Princeton, NJ: Princeton University Press, 1989.