By Lynn Festa (NHC Fellow, 2013–14)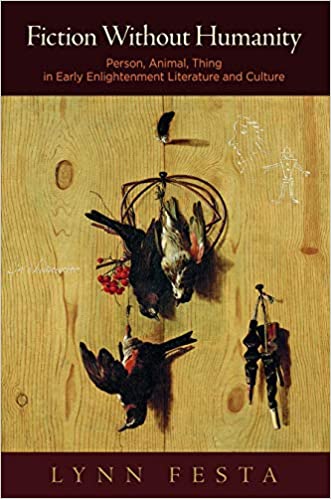 Philadelphia: University of Pennsylvania Press, 2019
From the publisher's description:
Although the Enlightenment is often associated with the emergence of human rights and humanitarian sensibility, "humanity" is an elusive category in the literary, philosophical, scientific, and political writings of the period. Fiction Without Humanity offers a literary history of late seventeenth- and early eighteenth-century efforts to define the human. Focusing on the shifting terms in which human difference from animals, things, and machines was expressed, Lynn Festa argues that writers and artists treated humanity as an indefinite class, which needed to be called into being through literature and the arts.
Drawing on an array of literary, scientific, artistic, and philosophical devices—the riddle, the fable, the microscope, the novel, and trompe l'oeil and still-life painting—Fiction Without Humanity focuses on experiments with the perspectives of nonhuman creatures and inanimate things. Rather than deriving species membership from sympathetic identification or likeness to a fixed template, early Enlightenment writers and artists grounded humanity in the enactment of capacities (reason, speech, educability) that distinguish humans from other creatures, generating a performative model of humanity capacious enough to accommodate broader claims to human rights.
In addressing genres typically excluded from canonical literary histories, Fiction Without Humanity offers an alternative account of the rise of the novel, showing how these early experiments with nonhuman perspectives helped generate novelistic techniques for the representation of consciousness. By placing the novel in a genealogy that embraces paintings, riddles, scientific plates, and fables, Festa shows realism to issue less from mimetic exactitude than from the tailoring of the represented world to a distinctively human point of view.
Awards and Prizes
James Russell Lowell Prize (2019); Kenshur Prize (2019)
Subjects
Literature
/
Age of Enlightenment
/
Literary History
/
Anthropomorphism
/
Humanity
/
---
Festa, Lynn (NHC Fellow, 2013–14). Fiction Without Humanity: Person, Animal, Thing in Early Enlightenment Literature and Culture. Philadelphia: University of Pennsylvania Press, 2019.