By Sarah D. Shields (NHC Fellow, 2006–07)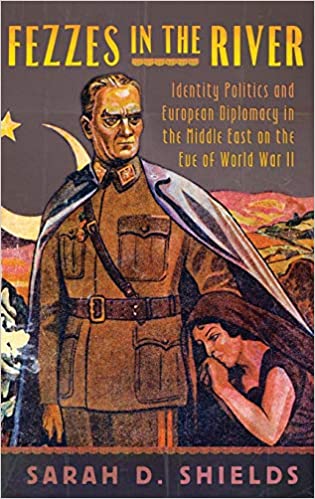 New York: Oxford University Press, 2010
From the publisher's description:
Self-determination, imported into the Middle East on the heels of World War I, held out the promise of democratic governance to the former territories of the Ottoman Empire. The new states that European Great Powers carved out of the multilingual, multiethnic, and multireligious empire were expected to adhere to new forms of affiliation that emphasized previously unimportant differences.

In 1936, the new Republic of Turkey lay claim to Antioch and the Sanjak (province) of Alexandretta, which the French had ruled since 1920 as part of its mandate over Syria. Turkey's ambassador made a passionate argument that Alexandretta was a homeland of the Turks, a place that was essentially Turkish. With France and Turkey unable to reach agreement, the League of Nations was called in to broker a compromise consistent with the spirit of the new democratic impulse, one of many disputes that it had to adjudicate as self-determination became a rallying cry for peoples who wanted to form new nations around their collective identities. Over the next four years, Turkey struggled for recognition of its claims to the territory, while Turkish authorities competed to win hearts and minds in Alexandretta province.

In this nuanced narrative, Sarah D. Shields illuminates how the people of this region-about a quarter of a million Arabs, Armenians, Circassians, Kurds, and Turks-were forced to choose between Turkish and Arab identities. In the end, Shields shows, national identities played no role in the outcome of the dispute. What happened on the ground in this contested region was determined by Great Power diplomacy amidst the crisis of European democracy in the late 1930s, a story skillfully interwoven with the violent struggles that took place on the streets of the province. In the end, a new kind of identity politics was unleashed that redefined belonging, transformed nationalism, and set in motion the process of dysfunctional democracy that continues to plague the Middle East.
Subjects
History
/
Political Science
/
Cultural Identity
/
Political History
/
Diplomacy
/
Turkish People
/
Arabs
/
---
Shields, Sarah D. (NHC Fellow, 2006–07). Fezzes in the River: Identity Politics and European Diplomacy in the Middle East on the Eve of World War II. New York: Oxford University Press, 2010.