By Fiona Somerset (NHC Fellow, 2006–07)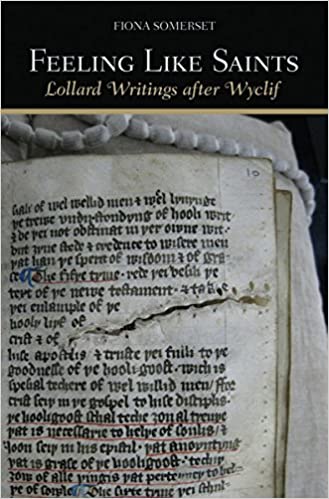 Ithaca, NY: Cornell University Press, 2014
From the publisher's description:
"Lollard" is the name given to followers of John Wyclif, the English dissident theologian who was dismissed from Oxford University in 1381 for his arguments regarding the eucharist. A forceful and influential critic of the ecclesiastical status quo in the late fourteenth century, Wyclif's thought was condemned at the Council of Constance in 1415. While lollardy has attracted much attention in recent years, much of what we think we know about this English religious movement is based on records of heresy trials and anti-lollard chroniclers. In Feeling Like Saints, Fiona Somerset demonstrates that this approach has limitations. A better basis is the five hundred or so manuscript books from the period (1375–1530) containing materials translated, composed, or adapted by lollard writers themselves.These writings provide rich evidence for how lollard writers collaborated with one another and with their readers to produce a distinctive religious identity based around structures of feeling. Lollards wanted to feel like saints. From Wyclif they drew an extraordinarily rigorous ethic of mutual responsibility that disregarded both social status and personal risk. They recalled their commitment to this ethic by reading narratives of physical suffering and vindication, metaphorically martyring themselves by inviting scorn for their zeal, and enclosing themselves in the virtues rather than the religious cloister. Yet in many ways they were not that different from their contemporaries, especially those with similar impulses to exceptional holiness.
Awards and Prizes
Margaret Wade Labarge Prize (2016)
Subjects
Religion
/
History
/
Literary Criticism
/
Lollardy
/
Writing
/
Primary Sources
/
Middle English Literature
/
History of Christianity
/
---
Somerset, Fiona (NHC Fellow, 2006–07). Feeling Like Saints: Lollard Writings after Wyclif. Ithaca, NY: Cornell University Press, 2014.