By Raymond Van Dam (NHC Fellow, 1986–87)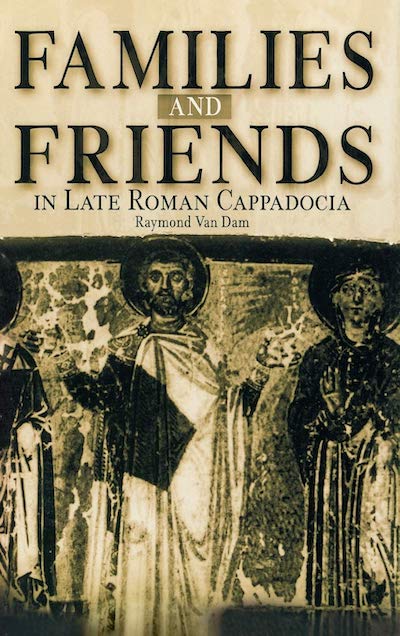 Philadelphia: University of Pennsylvania Press, 2003
From the publisher's description:
Basil of Caesarea, his brother Gregory of Nyssa, and their friend Gregory of Nazianzus were prominent churchmen in Roman Cappadocia during the later fourth century. Because of their reputations as distinguished theologians, they are now known as the Cappadocian Fathers. Recent research on Roman families and friendships has been revitalized through the use of comparative demography, Roman law, and gender studies, and the extensive writings of the Cappadocian Fathers offer a rare opportunity for a close investigation of two provincial families side by side. By examining their relationships as sons, brothers, uncles, and mutual friends, Families and Friends in Late Roman Cappadocia combines patristic studies and ecclesiastical history with cultural studies and the history of the family.
None of the Cappadocian Fathers became a parent. But as sons they had to cope with their different feelings about their fathers, one who died comparatively young, the other who lived much longer than expected. Since at the same time they were formulating their doctrines about God the Father and Jesus Christ the Son, Raymond Van Dam considers whether their personal experiences might have influenced their theology.
The mothers in both families were influential figures, one because of her close emotional bond with her children, the other because she controlled the family's patrimony. Macrina, the famous sister of Basil and Gregory of Nyssa, was noted for her ascetic piety. Yet these women are known almost exclusively through texts composed by their sons or brothers. Narrating the lives of women was a rhetorical strategy for men to reflect on themselves and their own concerns.
Friendships were a form of self-representation, too, and in choosing their friends Basil and Gregory of Nazianzus were at the same time fashioning personal identities. At one time, their own friendship had reflected their mutual delight in classical culture. After they became churchmen, however, their friendship collapsed. At the end of his life, Gregory still cried when he thought about Basil. Their friendship had been one of the great love stories of the fourth century.
Subjects
History
/
Religion
/
History of Christianity
/
Families
/
Friendship
/
Roman Cappadocia
/
Fourth-Century
/
Cappadocian Fathers
/
Ancient Rome
/
Saint Basil, Bishop of Caesarea
/
Saint Gregory of Nyssa
/
Saint Gregory of Nazianzus
/
---
Van Dam, Raymond (NHC Fellow, 1986–87). Families and Friends in Late Roman Cappadocia. Philadelphia: University of Pennsylvania Press, 2003.