By Donald J. Raleigh (NHC Fellow, 1991–92)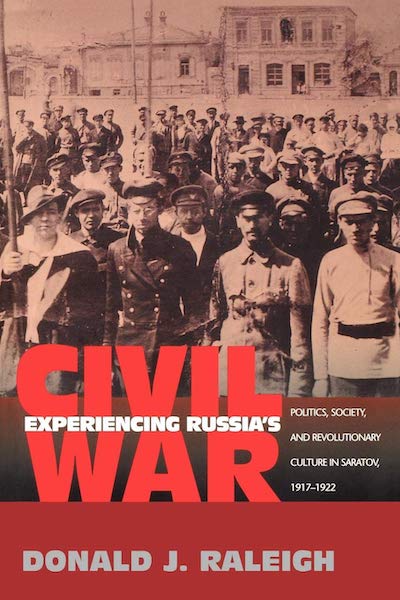 Princeton, NJ: Princeton University Press, 2002
From the publisher's description:
This book is the only comprehensive history of the total experience of the Russian Civil War. Focusing on the key Volga city of Saratov and the surrounding region, Donald Raleigh is the first historian to fully show how the experience of civil war embedded itself into both the people's and the state's outlook and behavior. He demonstrates how and why the programs and ideals that had propelled the Bolsheviks into power were so quickly lost and the repressive Soviet party-state was born.

Experiencing Russia's Civil War is based on exhaustive use of previously classified local and central archives. It is also bold and ambitious in its breadth of thematic coverage, dealing with all aspects of the war experience from institutional evolution and demographics to survival strategies. Complicating our understanding of this formative period, Raleigh provides compelling evidence that many features of the Soviet system that we associate with the Stalin era were already adumbrated and practiced by the early 1920s, as Bolshevism became closed to real alternatives. Raleigh interprets this as the consequence of a complex dynamic shaped by Russia's political tradition and culture, Bolshevik ideology, and dire political, economic, and military crises starting with World War I and strongly reinforced by the indelible, mythologized experience of survival in the Civil War.

Fluidly written, replete with new information, and always engaged with important questions, this is history finely wrought.
Subjects
History
/
Soviet Union
/
Russian Soviet Federative Socialist Republic
/
Russian Revolution
/
Russian History
/
Political Culture
/
Civil Wars
/
Saratov
/
---
Raleigh, Donald J. (NHC Fellow, 1991–92). Experiencing Russia's Civil War: Politics, Society, and Revolutionary Culture in Saratov, 1917-1922. Princeton, NJ: Princeton University Press, 2002.