Edited by Jack P. Greene (NHC Fellow, 1986–87; 1987–88; 2009–10)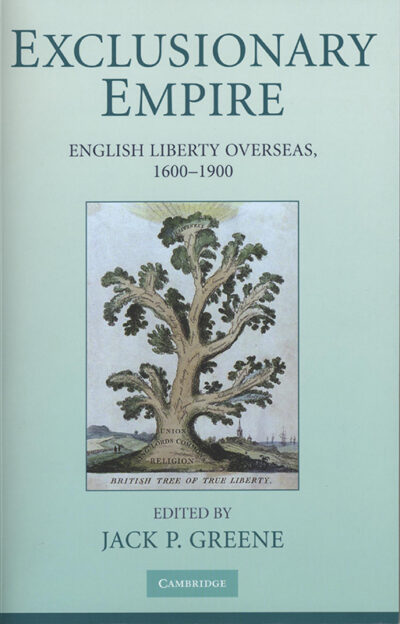 Cambridge, UK: Cambridge University Press, 2010
From the publisher's description:
Consisting of an introduction and ten chapters, Exclusionary Empire examines the transfer of English traditions of liberty and the rule of law overseas from 1600 to 1900. Each chapter is written by a noted specialist and focuses on a particular area of the settler empire – Colonial North America, the West Indies, Ireland, the early United States, Canada, Australia, New Zealand, and South Africa – and on one non-settler colony, India. The book examines the ways in which the polities in each of these areas incorporated these traditions, paying particular attention to the extent to which these traditions were confined to the independent white male segments of society and denied to most others. This collection will be invaluable to all those interested in the history of colonialism, European expansion, the development of empire, the role of cultural inheritance in those histories, and the confinement of access to that inheritance to people of European descent.
Subjects
History
/
Political Science
/
British Empire
/
Imperialism
/
Liberty
/
Political Freedom
/
Colonialism
/
Age of Exploration
/
British History
/
---
Greene, Jack P. (NHC Fellow, 1986–87; 1987–88; 2009–10), ed. Exclusionary Empire: English Liberty Overseas, 1600-1900. Cambridge, UK: Cambridge University Press, 2010.