Edited by Gilbert M. Joseph (NHC Fellow, 1992–93) and Daniel Nugent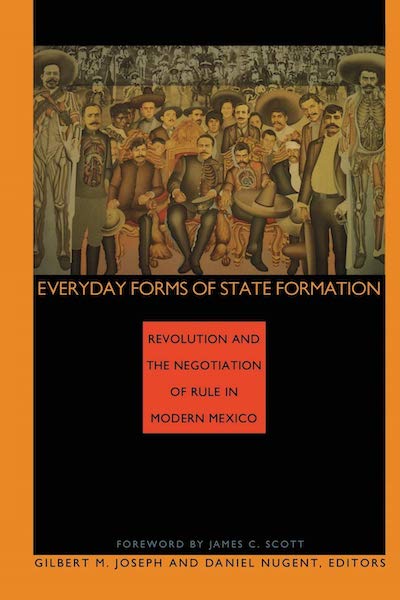 Durham, NC: Duke University Press, 1994
From the publisher's description:
Everyday Forms of State Formation is the first book to systematically examine the relationship between popular cultures and state formation in revolutionary and post-revolutionary Mexico. While most accounts have emphasized either the role of peasants and peasant rebellions or that of state formation in Mexico's past, these original essays reveal the state's day-to-day engagement with grassroots society by examining popular cultures and forms of the state simultaneously and in relation to one another. Structured in the form of a dialogue between a distinguished array of Mexicanists and comparative social theorists, this volume boldly reassesses past analyses of the Mexican revolution and suggests new directions for future study. Showcasing a wealth of original archival and ethnographic research, this collection provides a new and deeper understanding of Mexico's revolutionary experience. It also speaks more broadly to a problem of extraordinary contemporary relevance: the manner in which local societies and self-proclaimed "revolutionary" states are articulated historically. The result is a unique collection bridging social history, anthropology, historical sociology, and cultural studies in its formulation of new approaches for rethinking the multifaceted relationship between power, culture, and resistance.
Subjects
History
/
Anthropology
/
Cultural Studies
/
Popular Culture
/
Mexican Revolution
/
---
Joseph, Gilbert M. (NHC Fellow, 1992–93), ed. Everyday Forms of State Formation: Revolution and the Negotiation of Rule in Modern Mexico. Edited by Gilbert M. Joseph and Daniel Nugent. Durham, NC: Duke University Press, 1994.