By Norman A. Kutcher (NHC Fellow, 2015–16)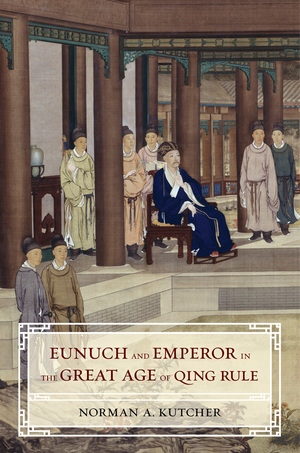 Berkeley: University of California Press, 2018
From the publisher's description:
Eunuch and Emperor in the Great Age of Qing Rule offers a new interpretation of eunuchs and their connection to imperial rule in the first century and a half of the Qing dynasty (1644–1800). This period encompassed the reigns of three of China's most important emperors, men who were deeply affected by the great eunuch corruption of the fallen Ming dynasty. In this groundbreaking and deeply researched book, the author explores how Qing emperors sought to prevent a return of the harmful excesses of eunuchs and how eunuchs flourished in the face of the restrictions imposed upon them. We meet powerful eunuchs who faithfully served, and in some cases ultimately betrayed, their emperors. We also meet ordinary eunuchs whose lives, punctuated by dramas large and small, provide a fascinating perspective on the Qing palace world.
Subjects
History
/
Chinese History
/
Qing Dynasty
/
Royal Courts
/
Social History
/
China
/
---
Kutcher, Norman A. (NHC Fellow, 2015–16). Eunuch and Emperor in the Great Age of Qing Rule. Berkeley: University of California Press, 2018.