By Barbara J. Harris (NHC Fellow, 1994–95)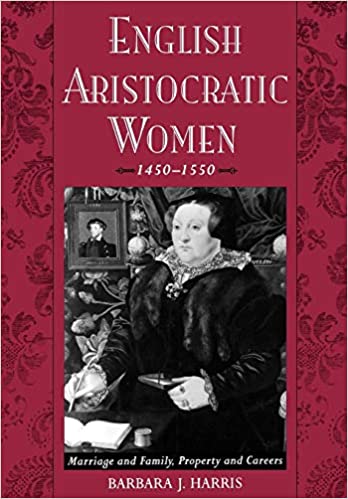 New York: Oxford University Press, 2002
From the publisher's description:
Portraits of aristocratic women from the Yorkist and Tudor periods reveal elaborately clothed and bejeweled nobility, exemplars of their families' wealth. Unlike their male counterparts, their sitters have not been judged for their professional accomplishments. In this groundbreaking study, Barbara J. Harris argues that the roles of aristocratic wives, mothers, and widows constituted careers for women that had as much public and political significance and were as crucial for the survival and prosperity of their families and class as their husband's careers. Women, Harris demonstrates, were trained from an early age to manage their families' property and households; arrange the marriages and careers of their children; create, sustain, and exploit the client-patron relationships that were an essential element in politics at the regional and national levels; and, finally, manage the transmission and distribution of property from one generation to another, since most wives outlived their husbands.

English Aristocratic Women unveils the lives of noblewomen whose historical influence has previously been dismissed, as well as those who became favorites at the court of Henry VIII. Through extensive archival research of documents belonging to more than twelve hundred families, Harris paints a collective portrait of upper-class women of this period. By recognizing the full significance of the aristocratic women's careers, this book reinterprets the politics and gender relations of early modern England. Barbara J. Harris is Professor of History and Women's Studies at the University of North Carolina at Chapel Hill. Her previous works include Edward Stafford, Third Duke of Buckingham, 1478-1521.
Subjects
Gender and Sexuality
/
History
/
Women's History
/
English History
/
Aristocracy
/
Tudor Period
/
Marriage
/
Family
/
Social History
/
---
Harris, Barbara J. (NHC Fellow, 1994–95). English Aristocratic Women, 1450-1550: Marriage and Family, Property and Careers. New York: Oxford University Press, 2002.