Hunter, Mary; Will, Richard (Fellow, 2009-10);, ed.
Cambridge, UK: Cambridge University Press, 2022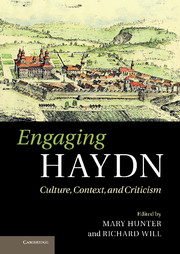 From the publisher's description:
Haydn is enjoying renewed appreciation as one of the towering figures of Western music history. This lively collection builds upon this resurgence of interest, with chapters exploring the nature of Haydn's invention and the cultural forces that he both absorbed and helped to shape and express. The volume addresses Haydn's celebrated instrumental pieces, the epoch-making Creation and many lesser-known but superb vocal works including the Masses, the English canzonettas and Scottish songs and the operas L'isola disabitata and L'anima del filosofo. Topics range from Haydn's rondo forms to his violin fingerings, from his interpretation of the Credo to his reading of Ovid's Metamorphoses, from his involvement with national music to his influence on the emerging concept of the musical work. Haydn emerges as an engaged artist in every sense of the term, as remarkable for his critical response to the world around him as for his innovations in musical composition. Brings together the work of leading Haydn scholars, appealing to readers who wish to keep up with the latest research in the field of Haydn studies; places a particular emphasis on Haydn's vocal music, balancing existing work in the field, which is often heavily weighted toward instrumental music; combines contextual and analytical approaches, presenting a fresh perspective on Haydn's music.
---
Subjects: Music; History;; History of Music; Composers; Opera; Classical Music; Music Criticism;