Edited by Henry S. Turner (NHC Fellow, 2010–11)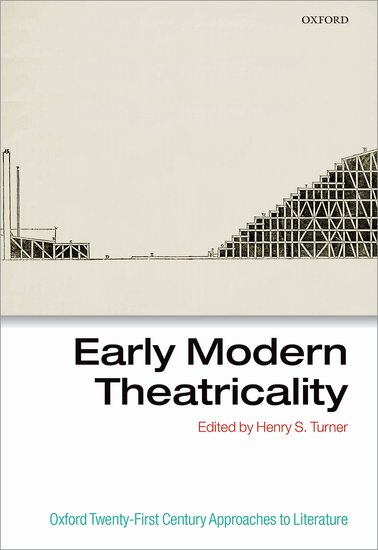 New York: Oxford University Press, 2013
From the publisher's description:
The original essays in Oxford Twenty-First Century Approaches to Literature mean to provoke rather than reassure, to challenge rather than codify. Instead of summarizing existing knowledge, scholars working in the field aim at opening fresh discussion; instead of emphasizing settled consensus, they direct their readers to areas of enlivened and unresolved debate.

Following the models established by previous volumes in the Oxford Twenty-First Century Approaches to Literature series, Early Modern Theatricality launches a new generation of scholarship on early modern drama by focusing on the rich formal capacities of theatrical performance. The collection gathers some of the most innovative critics in the field to examine the techniques, objects, bodies, and conventions that characterized early modern theatricality, from the Tudor period to the Restoration. Taking their cues from a series of guiding keywords, the contributors identify the fundamental features of theatricality in the period, using them to launch conceptually adventurous arguments. The volume generates fresh possibilities for criticism by combining historical, formal, and philosophical questions, in order to provoke our rediscovery of early modern drama in all its complexity and inventiveness.
Subjects
Theater
/
Early Modern Period
/
Playwrights
/
Drama
/
Performing Arts
/
Theater Criticism
/
---
Turner, Henry S. (NHC Fellow, 2010–11), ed. Early Modern Theatricality. Oxford Twenty-First Century Approaches to Literature. New York: Oxford University Press, 2013.