By Jiwei Ci (NHC Fellow, 1991–92)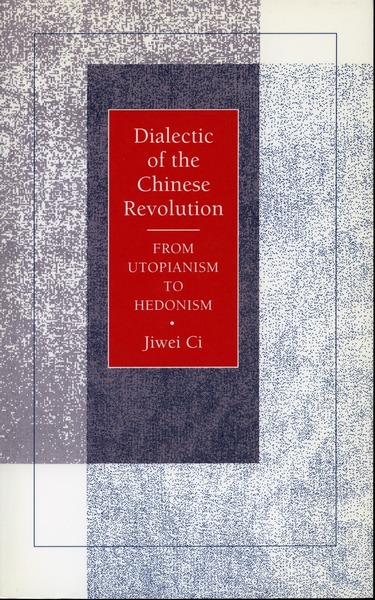 Stanford, CA: Stanford University Press, 1994
From the publisher's description:
Behind the profound social and economic changes now taking place in China is a complex history of communism's invention and loss of meaning. This history, from 1949 to the present, has been extensively studied by scholars using the methods of history and political science. Dialectic of the Chinese Revolution makes an innovative departure from these studies through a series of reflections on the history of communist China as a history of consciousness.
It focuses on important aspects of the Chinese experience - such as memory and amnesia, energy and meaning, and the center and periphery mentality - that are amenable more to a philosophical and psychological approach than to an empirical one.
The author goes beyond the concept of utopianism that is customarily applied to the Chinese communist experience by viewing this epoch in terms of the movement from utopianism to nihilism to hedonism. He traces the path of Chinese communism from the early belief that denial and hard work combined with Marxism and Maoism would create a utopia of material and spiritual abundance to the disappointment of this belief and the ensuing search for individual pleasure and prosperity.
In this progression, which the author describes as the unfolding of the hedonistic potential of utopianism, Marxism became China's road to capitalism and consumerism.
The book consists of essays that approach the trajectory of utopianism-nihilism-hedonism from six different viewpoints: the impact of Marxism on China's relationship to itself and to the West, the manipulation of language and cultural memory, the effects of founding morality on a revolutionary teleology, the tension between the ascetic and the hedonistic aspects of utopianism, the paralysis of the will resulting from continual mobilizations and failures, and the relationship of past, present, and future as mirrored in constantly shifting beliefs.
Subjects
History
/
Political Science
/
Communism
/
Political History
/
Utopianism
/
Chinese Communist Revolution
/
---
Ci, Jiwei (NHC Fellow, 1991–92). Dialectic of the Chinese Revolution: From Utopianism to Hedonism. Stanford, CA: Stanford University Press, 1994.