By Alexander of Aphrodisias
Edited and translated by Ricardo Salles (NHC Fellow, 2018–19) and José Molina Ayala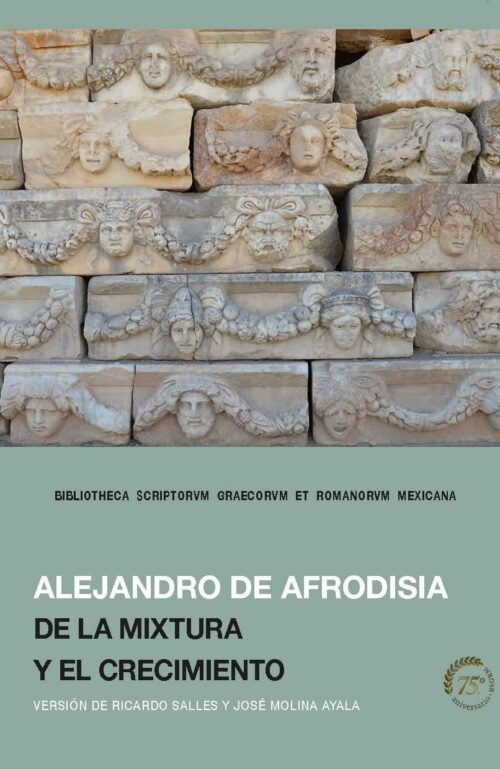 Mexico City: Universidad Nacional Autónoma de México, 2019
From the publisher's description:
Alejandro de Afrodisia revela cada vez más su importancia dentro del quehacer filosófico de la Antigüedad. Iniciado en la filosofía por su propio padre, llegó a ser, entre el final del siglo II y la primera mitad del III después de Cristo, el director de la escuela aristotélica en Atenas. Sus comentarios a la obra de Aristóteles, lo colocan como una figura de primer orden en la tradición peripatética y le ganaron ser llamado "El exégeta", el comentador por antonomasia. El tratado De la mixtura y el crecimiento es una obra de sólo dieciséis capítulos. En estos, Alejandro está interesado no sólo en exponer la doctrina de Aristóteles, sino también en someterla a prueba contrastándola con otras doctrinas. Busca además impugnar a los adversarios, a los atomistas, por ejemplo, pero predominantemente a los estoicos. En función de esto desarrolla varias estrategias retóricas que hacen de su tratado un libro no meramente expositivo del pensamiento aristotélico sino un escrito polémico y crítico en que el autor evaluará las doctrinas propias y ajenas sobre el tema de la mixtura y el crecimiento. Por su rigor, metodología, perspicacia y erudición, Alejandro de Afrodisia es un autor imprescindible que nos muestra la tradición clásica como algo verdaderamente vivo e inspirador para los intereses de las sociedades actuales y, sobre todo, de sus jóvenes.
Subjects
Philosophy
/
Ancient Greek Philosophy
/
Stoicism
/
Philosophers
/
Aristotle
/
Alexander of Aphrodisias
/
---
Salles, Ricardo (NHC Fellow, 2018–19), ed. and trans. De la mixtura y el crecimiento = Περί κράσεως καὶ αὐξήσεως, by Alexander of Aphrodisias. Edited and translated by Ricardo Salles and José Molina Ayala. Bibliotheca scriptorum Graecorum et Romanorum Mexicana. Mexico City: Universidad Nacional Autónoma de México, 2019.