By Emília Viotti da Costa (NHC Fellow, 1984–85)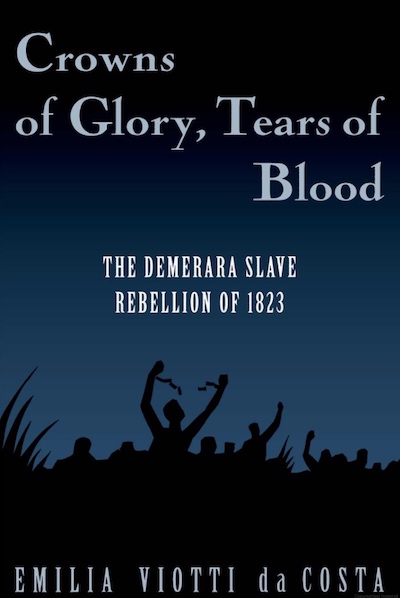 New York: Oxford University Press, 1994
From the publisher's description:
The night of August 17, 1823 saw the start of one of the most massive slave rebellions in the history of the Western Hemisphere, the uprising in the British colony of Demerara (now Guyana), in which nearly twelve thousand slaves took up arms against their masters. In Crowns of Glory, Emilia Viotti da Costa tells the riveting story of this pivotal moment in the history of slavery. Studying the complaints brought by slaves to the office of the Protector of Slaves, she reconstructs the experience of slavery through the eyes of the Demerara slaves themselves. Da Costa also draws on eyewitness accounts, official records, and private journals (most notably the diary of John Smith, one of four ministers sent by the London Missionary Society to convert Demerara's "heathen"), to paint a vivid portrait of a society in transition, shaken to its foundations by the recent revolutions in America, France, and Haiti. Casting new light on the nuances of racial relations in the colonies, the inevitable clash between the missionaries' message of Christian brotherhood and a social order based on masters and slaves, and the larger historical forces that were profoundly eroding the institution of slavery itself, Crowns of Glory is an original and unforgettable book.
Subjects
History
/
Demerara Rebellion of 1823
/
Colonialism
/
Enslaved Persons
/
Slavery
/
Rebellions
/
---
da Costa, Emília Viotti (NHC Fellow, 1984–85). Crowns of Glory, Tears of Blood: The Demerara Slave Rebellion of 1823. New York: Oxford University Press, 1994.