By Dale Kent (NHC Fellow, 1985–86)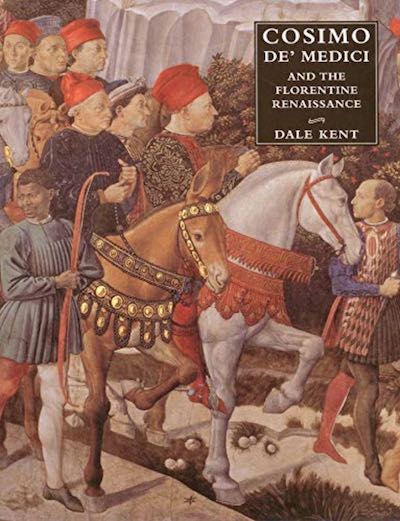 New Haven, CT: Yale University Press, 2000
From the publisher's description:
Cosimo de' Medici (1389–1464), the fabulously wealthy banker who became the leading citizen of Florence in the fifteenth century, spent lavishly as the city's most important patron of art and literature. This remarkable book is the first comprehensive examination of the whole body of works of art and architecture commissioned by Cosimo and his sons. By looking closely at this spectacular group of commissions, we gain an entirely new picture of their patron and of the patron's point of view. Recurrent themes in the commissions—from Fra Angelico's San Marco altarpiece to the Medici Palace—indicate the main interests to which Cosimo's patronage gave visual expression. Dale Kent offers new insights and perspectives on the individual objects comprising the Medici oeuvre by setting them within the context of civic and popular culture in early Renaissance Florence, and of Cosimo's life as the leader of the Medici lineage and the dominant force in the governing elite.

From the wealth of available documentation on Cosimo de' Medici's life, the author considers how Cosimo's own experience influenced his patronage; how the culture of Renaissance Florence provided a common idiom for the patron, his artists, and his audience; what he preferred and intended as a patron; and how focusing on his patronage of art alters the image of him that is based on his roles as banker and politician. Cosimo was as much a product as a shaper of Florentine society, Kent concludes. She identifies civic patriotism and devotion as the main themes of his oeuvre and argues that religious imperatives may well have been more important than political ones in shaping the art for which he was responsible and its reception.
Awards and Prizes
Charles Rufus Morey Book Award (2002)
Subjects
History
/
Art
/
Architecture
/
Italian Renaissance
/
Italian History
/
Art History
/
Arts Patronage
/
Cosimo de' Medici
/
---
Kent, Dale (NHC Fellow, 1985–86). Cosimo de' Medici and the Florentine Renaissance: The Patron's Oeuvre. New Haven, CT: Yale University Press, 2000.