By Francis Oakley (Trustee; NHC Fellow, 1990–91)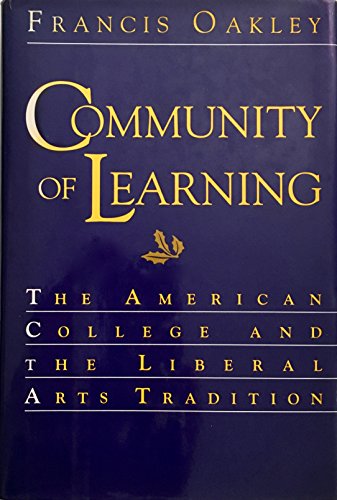 New York: Oxford University Press, 1992
From the publisher's description:
In the past decade, criticism of the state of undergraduate education in America has come from many directions and in many and various forms, from Allan Bloom's The Closing of the American Mind, to Dinesh D'Souza's Illiberal Education, to Secretary of Education William J. Bennett's 1984 report "To Reclaim a Legacy." In his book Tenured Radicals, Roger Kimball derided current instruction in the humanities as "a program of study that has nothing to offer... but ideological posturing, pop culture, and hermeneutic word games." And given the intense demands of global competition, others have wondered if liberal arts programs in general should be replaced by more practical, job-oriented courses of study. Has the age-old tradition of education in the liberal arts been betrayed in our lifetime? Is it destined to become a stale vestige of the past? What value can be attributed to it in an era of rapidly escalating change?
In Community of Learning, Francis Oakley, the president of Williams College, makes a strong case for the values and achievements of the liberal arts in providing a sense of historical continuity and a broader framework in which to come to terms with the problems of the modern world. Noting the "dyspeptic presentism" and "disheveled anecdotalism" characteristic of a good deal of the recent criticism, Oakley attempts to place it in historical perspective. He asserts that the single most important factor shaping the American undergraduate experience today is the unparalleled demographic upheaval of the past thirty years, the nature of the response it evoked, and the energy, imagination, and adaptation going into that response. And, reaching back to a more distant past, he insists that the tradition of education in the liberal arts has always been a highly tension-ridden one and that from its very conflictedness has derived much of its enduring vitality. Weaving together historical perspective and recent statistical data, he evaluates current worries about a "flight from the humanities" on the part of students or from teaching on the part of academics, and addresses such hotly debated issues as curricular coherence, multiculturalism, and the alleged politicization of undergraduate studies. Coming at a time when the age-old tradition of education in the liberal arts is beset by anxious questioning, Community of Learning is a bold affirmation of its established strengths and current efficacy in helping provide students with a grasp of the past, a comprehension of the present, a sense of self, and an enhanced ability to cope with the complex demands of an era of unprecedented change.
Subjects
History
/
Education Studies
/
Higher Education
/
Liberal Arts Colleges
/
---
Oakley, Francis (Trustee; NHC Fellow, 1990–91). Community of Learning: The American College and the Liberal Arts Tradition. New York: Oxford University Press, 1992.