By Cecil W. Wooten (NHC Fellow, 1980–81)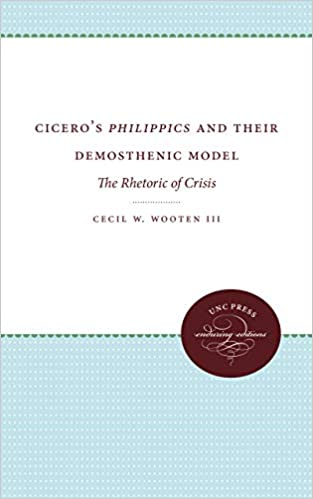 Chapel Hill: The University of North Carolina Press, 1983
From the publisher's description:
Although Cicero's Phillipics are his most mature speeches, they have received little attention as works of oratory. On the other hand, scholars in this century have considered Cicero's attitudes toward and dependence on Demosthenes to be an issue of importance. Cecil Wooten brings together these two concerns, linking Cicero's use of Demosthenes as a model in the Phillipics to precise analyses of style, rhetorical modulation, and narrative technique. In doing so he defines and demonstrates the effectiveness of a type of oratory that he terms "the rhetoric of crisis."
Characteristic of such rhetoric is the polarization of a conflict into a dichotomy between good and evil, right and wrong. The orator adopts a stance in which he is obsessed with the struggle, with victory, and with the preservation of a tradition. He defines his present crisis in terms of patterns that have appeared in the past, which means that he is likely to choose from the past a model for his own response to the crisis.
In Demosthenes, Cicero found a statesman that had faced a similar political situation. Demosthenes' speeches were directed against Philip of Macedon, whose expanding empire threatened the survival of the Greek city-states. Antony posed an equally severe threat to the Roman republic, and Cicero therefore turned to Demosthenes' speeches as a model for his own. The oratory of both was forged during a period of supreme crisis, at a critical turning point in civilization.
"Tremendous talent," Wooten writes of this oratory, "is coupled with the instinct for survival, the most basic of human impulses, to produce a form of oratory that is characterized by extreme clarity of vision, purposefulness, vividness, and rapidity of presentation, an oratory that is clean and direct and decisive, in which the organic synthesis of content, arrangement, and style is remarkable and striking."
Subjects
Classics
/
Literature
/
Latin Literature
/
Speeches
/
Writing Style
/
Rhetoric
/
Oratory
/
Philippicae
/
Marcus Tullius Cicero
/
Demosthenes
/
---
Wooten, Cecil W. (NHC Fellow, 1980–81). Cicero's Philippics and Their Demosthenic Model: The Rhetoric of Crisis. Chapel Hill: The University of North Carolina Press, 1983.