By C. David Benson (NHC Fellow, 1983–84)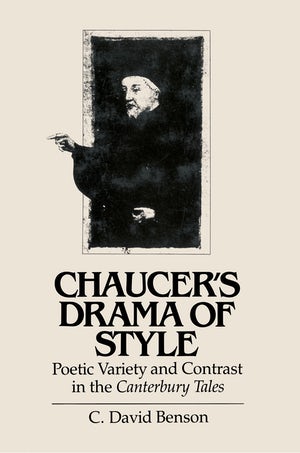 Chapel Hill: The University of North Carolina Press, 1986
From the publisher's description:
David Benson's lively new interpretation of Chaucer's great story collection attributes the variety and contrast of the tales to the unique literary style of each narrative. In contrast to the popular "dramatic approach," which assumes that the diversity of the tales comes from the supposed psyches of the pilgrim tellers, Benson argues that each tale is a fully formed expression of an individual kind of poetry. Each is constructed on its own distinct literary principles so that the Canterbury Tales is best seen as a drama of poetic styles, not personalities.
After introducing his approach and discussing the two tales Chaucer assigns himself, Sir Thopas and Melibee, Benson supports his argument with evidence from close readings of the major tales. He demonstrates that the Pardoner's Tale is more powerful when read as a defense of Christian poetry than as an expose of the pilgrim Pardoner. He then explores the striking literary conflict between the Knight's Tale and the Miller's Tale, which goes far beyond the two tellers. Concluding his work with a detailed analysis of four fabliaux and two religious tales, Benson shows Chaucer's creation of absolute poetic variety even among tales of the same genre. By creating a new poet for each tale, Chaucer allows his reader to experience many different kinds of arts and so appreciate the achievement -- and limitation -- of each.
Benson sees the Canterbury Tales as a complex dialectic of variety and contrast. Although general precedents for the stylistic experiments of the Canterbury Tales can be found in such works as Boethius's Consolation of Philosophy and the Roman de la Rose, Benson considers Chaucer's stylistic drama new and daring in its creation of different poetic voices. With an ambition reminscent of Dante, Chaucer is attempting to be both moral teacher and true poet, using the full resources of his art to instruct and delight in order to explore and revivify Christian truth.
Subjects
Literary Criticism
/
Middle English Literature
/
Poetics
/
Poetry
/
Medieval Literature
/
The Canterbury Tales
/
Geoffrey Chaucer
/
---
Benson, C. David (NHC Fellow, 1983–84). Chaucer's Drama of Style: Poetic Variety and Contrast in the Canterbury Tales. Chapel Hill: The University of North Carolina Press, 1986.