By Laura Engelstein (NHC Fellow, 1997–98)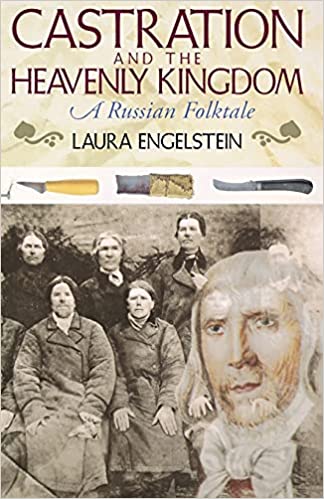 Ithaca, NY: Cornell University Press, 1999
From the publisher's description:
Of the many sects that broke from the official Russian Orthodox church in the eighteenth century, one was universally despised. Its members were peasants from the Russian heartland skilled in the arts of animal husbandry who turned their knives on themselves to become "eunuchs for the kingdom of heaven's sake." Convinced that salvation came only with the literal excision of the instruments of sin, they were known as Skoptsy (the self-castrated). Their community thrived well into the twentieth century, when it was destroyed in the Stalinist Terror.In a major feat of historical reconstruction, Laura Engelstein tells the sect's astonishing tale. She describes the horrified reactions to the sect by outsiders, including outraged bureaucrats, physicians, and theologians. More important, she allows the Skoptsy a say in defining the contours of their history and the meaning behind their sacrifice. Her deft handling of their letters and notebooks lends her book unusual depth and pathos, and she provides a heartbreaking account of willing exile and of religious belief so strong that its adherents accepted terrible pain and the denial of a basic human experience. Although the Skoptsy express joy at their salvation, the words of even the most fervent believers reveal the psychological suffering of life on society's margins. No foreign tribe or exotic import, the sect drew its members from the larger peasant society where marriage was expected and adulthood began with the wedding night. Set apart by the very act that guaranteed their redemption, these "lambs of God" became adept at concealing their sectarian identity as they interacted with their Orthodox neighbors. Interaction was necessary, Engelstein explains, since the survival of the Skoptsy depended upon recruitment of new members and on success in agriculture and trade. Realizing that some prejudices have changed little over the centuries, Engelstein cautions that "we must not cast the shadow of our own distress on the story of the Skoptsy. Their physical suffering was something they willingly embraced." In Castration and the Heavenly Kingdom, she has produced a remarkable history that also illuminates the mysteries of the human heart.
Subjects
History
/
Religion
/
Skoptsy
/
Castration
/
Russian History
/
Eastern Orthodox Church
/
---
Engelstein, Laura (NHC Fellow, 1997–98). Castration and the Heavenly Kingdom: A Russian Folktale. Ithaca, NY: Cornell University Press, 1999.