Franklin, John Hope (Fellow, 1980-81; Fellow, 1981-82); Meier, August, ed.
Urbana: University of Illinois Press, 1982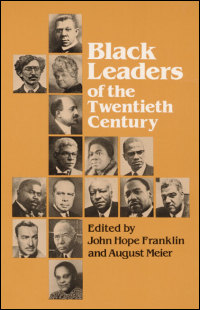 From the publisher's description:
For this, their first collaborative work, two of the leading authorities on black history in America have joined with other top scholars in the field to create an essential volume on the major achievements of fifteen twentieth-century black leaders - nationalists and integrationists, the charismatic and the bureaucratic, men and women who came from diverse walks of life including religion, labor, business, the professions, and the arts. These biographical studies, all but one written expressly for this volume, are on Martin Luther King, Jr., by David L. Lewis; Malcolm X by Peter Goldman; Booker T. Washington by Louis R. Harlan; W.E. B. Du Bois by Elliott Rudwick; A. Philip Randolph by Benjamin Quarles; Mary McLeod Bethune by B. Joyce Ross; T. Thomas Fortune by Emma Lou Thornbrough; Marcus Garve by Lawrence W. Levine; Charles Hamilton Houston by Genna Rae McNeil; James Welson Johnson by Eugen Levy; Adam Clayton Powell, Jr., by Martin Kilson; Charles Clinton Spaulding by Walter Weare; Mabel K. Staupers by Darlene Clark Hine; Ida B. Wells-Barnett by Thomas C. Holt; and Whitney M. Young, Jr., by Nancy J. Weiss. Comprehensive yet concise, Black Leaders is that rare book which will appeal as strongly to the general reader as to the specialist and which should become an integral part of all library collections.
---
Subjects: History; African American History; African Americans; Biography; Twentieth-Century; American Civil Rights Movement;