By Peter T. Struck (NHC Fellow, 2002–03)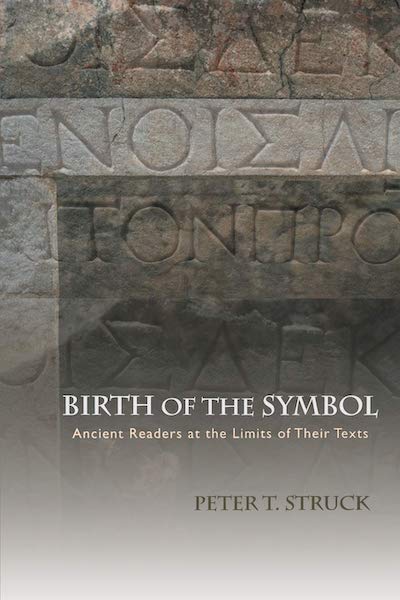 Princeton, NJ: Princeton University Press, 2004
From the publisher's description:
Nearly all of us have studied poetry and been taught to look for the symbolic as well as literal meaning of the text. Is this the way the ancients saw poetry? In Birth of the Symbol, Peter Struck explores the ancient Greek literary critics and theorists who invented the idea of the poetic "symbol."

The book notes that Aristotle and his followers did not discuss the use of poetic symbolism. Rather, a different group of Greek thinkers — the allegorists — were the first to develop the notion. Struck extensively revisits the work of the great allegorists, which has been underappreciated. He links their interest in symbolism to the importance of divination and magic in ancient times, and he demonstrates how important symbolism became when they thought about religion and philosophy. "They see the whole of great poetic language as deeply figurative," he writes, "with the potential always, even in the most mundane details, to be freighted with hidden messages."

Birth of the Symbol offers a new understanding of the role of poetry in the life of ideas in ancient Greece. Moreover, it demonstrates a connection between the way we understand poetry and the way it was understood by important thinkers in ancient times.
Awards and Prizes
Charles J. Goodwin Award of Merit (2007)
Subjects
Classics
/
Literature
/
Poetry
/
Ancient Greek Literature
/
Reading
/
Allegory
/
Symbolism
/
Intellectual History
/
---
Struck, Peter T. (NHC Fellow, 2002–03). Birth of the Symbol: Ancient Readers at the Limits of Their Texts. Princeton, NJ: Princeton University Press, 2004.