Edited by Scott Burnham (NHC Fellow, 1998–99) and Michael P. Steinberg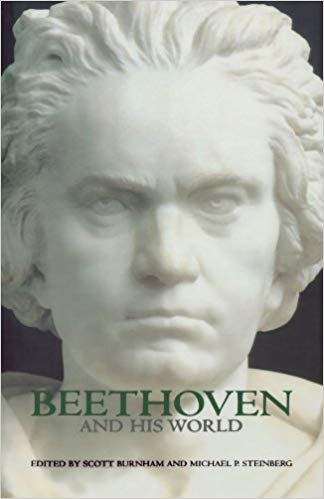 Princeton, NJ: Princeton University Press, 2000
From the publisher's description:
Few composers even begin to approach Beethoven's pervasive presence in modern Western culture, from the concert hall to the comic strip. Edited by a cultural historian and a music theorist, Beethoven and His World gathers eminent scholars from several disciplines who collectively speak to the range of Beethoven's importance and of our perennial fascination with him.

The contributors address Beethoven's musical works and their cultural contexts. Reinhold Brinkmann explores the post-revolutionary context of Beethoven's "Eroica" Symphony, while Lewis Lockwood establishes a typology of heroism in works like Fidelio. Elaine Sisman, Nicholas Marston, and Glenn Stanley discuss issues of temporality, memory, and voice in works at the threshold of Beethoven's late style, such as An die Ferne Geliebte, the Cello Sonata op. 102, no. 1, and the somewhat later Piano Sonata op. 109. Peering behind the scenes into Beethoven's workshop, Tilman Skowroneck explains how the young Beethoven chose his pianos, and William Kinderman shows Beethoven in the process of sketching and revising his compositions.

The volume concludes with four essays engaging the broader question of reception of Beethoven's impact on his world and ours. Christopher Gibbs' study of Beethoven's funeral and its aftermath features documentary material appearing in English for the first time; art historian Alessandra Comini offers an illustrated discussion of Beethoven's ubiquitous and iconic frown; Sanna Pederson takes up the theme of masculinity in critical representations of Beethoven; and Leon Botstein examines the aesthetics and politics of hearing extramusical narratives and plots in Beethoven's music.

Bringing together varied and fresh approaches to the West's most celebrated composer, this collection of essays provides music lovers with an enriched understanding of Beethoven — as man, musician, and phenomenon.
Subjects
Music
/
Classical Music
/
Composers
/
Musicians
/
Ludwig van Beethoven
/
---
Burnham, Scott (NHC Fellow, 1998–99), ed. Beethoven and His World. Edited by Scott Burnham and Michael P. Steinberg. Princeton, NJ: Princeton University Press, 2000.