By Mark Antliff (NHC Fellow, 2003–04)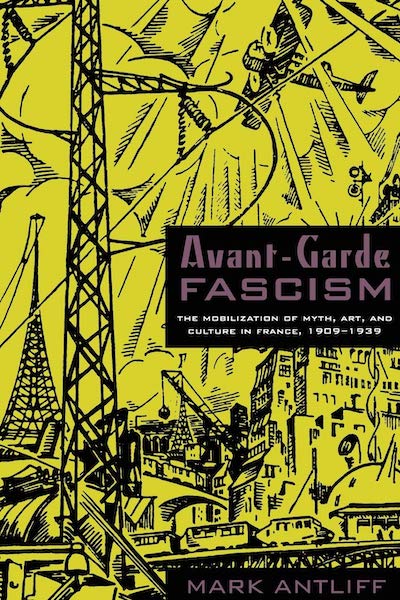 Durham, NC: Duke University Press, 2007
From the publisher's description:
Investigating the central role that theories of the visual arts and creativity played in the development of fascism in France, Mark Antliff examines the aesthetic dimension of fascist myth-making within the history of the avant-garde. Between 1909 and 1939, a surprising array of modernists were implicated in this project, including such well-known figures as the symbolist painter Maurice Denis, the architects Le Corbusier and Auguste Perret, the sculptors Charles Despiau and Aristide Maillol, the "New Vision" photographer Germaine Krull, and the fauve Maurice Vlaminck.
Antliff considers three French fascists: Georges Valois, Philippe Lamour, and Thierry Maulnier, demonstrating how they appropriated the avant-garde aesthetics of cubism, futurism, surrealism, and the so-called Retour à l'Ordre ("Return to Order"), and, in one instance, even defined the "dynamism" of fascist ideology in terms of Soviet filmmaker Sergei Eisenstein's theory of montage. For these fascists, modern art was the mythic harbinger of a regenerative revolution that would overthrow existing governmental institutions, inaugurate an anticapitalist new order, and awaken the creative and artistic potential of the fascist "new man."
In formulating the nexus of fascist ideology, aesthetics, and violence, Valois, Lamour, and Maulnier drew primarily on the writings of the French political theorist Georges Sorel, whose concept of revolutionary myth proved central to fascist theories of cultural and national regeneration in France. Antliff analyzes the impact of Sorel's theory of myth on Valois, Lamour, and Maulnier. Valois created the first fascist movement in France; Lamour, a follower of Valois, established the short-lived Parti Fasciste Révolutionnaire in 1928 before founding two fascist-oriented journals; Maulnier forged a theory of fascism under the auspices of the journals Combat and Insurgé.
Subjects
Art
/
Avant-garde
/
Cultural History
/
Fascism
/
French History
/
---
Antliff, Mark (NHC Fellow, 2003–04). Avant-Garde Fascism: The Mobilization of Myth, Art, and Culture in France, 1909-1939. Durham, NC: Duke University Press, 2007.