By Meredith J. Gill (NHC Fellow, 2003–04)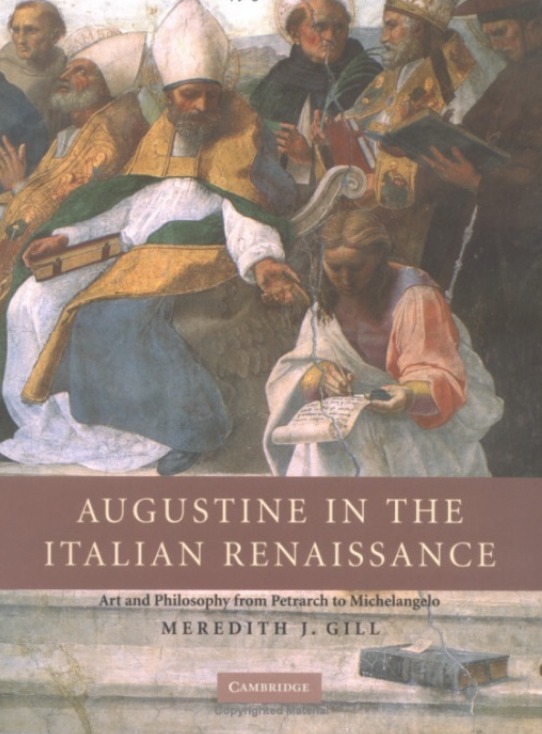 Cambridge, UK: Cambridge University Press, 2005
From the publisher's description:
The late antique Church father, Augustine, fascinated writers of the Italian Renaissance. They perceived him to be a conduit of classical and Christian truths, and an example of the life of the intellect reconciled to a life of faith. This book traces the availability and the reception of Augustine from the fourteenth to the mid-sixteenth century, and discusses the saint's influence on thinkers and humanists, such as Petrarch, as well as his representation in works of art. The religious order who claims him as their founder sponsored several major fresco cycles portraying the life of the saint, while, in single portraits, artists alluded to Augustine's aesthetic theory as it was manifest in his concept of divine illumination. The Sistine Chapel represents the fulfillment of his theological and philosophical legacy, one that began in the fifteenth century and extended through the completion of Michelangelo's 'Last Judgment'.
Subjects
Art
/
Religion
/
Philosophy
/
Christianity
/
Humanism
/
Italian Renaissance
/
Saint Augustine of Hippo
/
Michelangelo Buonarroti
/
---
Gill, Meredith J. (NHC Fellow, 2003–04). Augustine in the Italian Renaissance: Art and Philosophy from Petrarch to Michelangelo. Cambridge, UK: Cambridge University Press, 2005.