Edited by Terry Smith (NHC Fellow, 2007–08), Okwui Enwezor, and Nancy Condee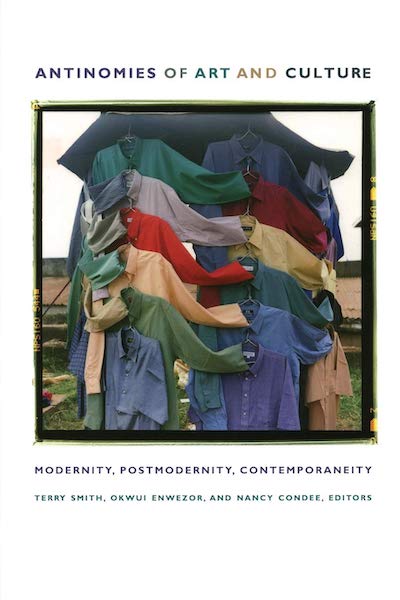 Durham, NC: Duke University Press, 2008
From the publisher's description:
In this landmark collection, world-renowned theorists, artists, critics, and curators explore new ways of conceiving the present and understanding art and culture in relation to it. They revisit from fresh perspectives key issues regarding modernity and postmodernity, including the relationship between art and broader social and political currents, as well as important questions about temporality and change. They also reflect on whether or not broad categories and terms such as modernity, postmodernity, globalization, and decolonization are still relevant or useful. Including twenty essays and seventy-seven images, Antinomies of Art and Culture is a wide-ranging yet incisive inquiry into how to understand, describe, and represent what it is to live in the contemporary moment.
In the volume's introduction the theorist Terry Smith argues that predictions that postmodernity would emerge as a global successor to modernity have not materialized as anticipated. Smith suggests that the various situations of decolonized Africa, post-Soviet Europe, contemporary China, the conflicted Middle East, and an uncertain United States might be better characterized in terms of their "contemporaneity," a concept which captures the frictions of the present while denying the inevitability of all currently competing universalisms. Essays range from Antonio Negri's analysis of contemporaneity in light of the concept of multitude to Okwui Enwezor's argument that the entire world is now in a postcolonial constellation, and from Rosalind Krauss's defense of artistic modernism to Jonathan Hay's characterization of contemporary developments in terms of doubled and even para-modernities. The volume's centerpiece is a sequence of photographs from Zoe Leonard's Analogue project. Depicting used clothing, both as it is bundled for shipment in Brooklyn and as it is displayed for sale on the streets of Uganda, the sequence is part of a striking visual record of new cultural forms and economies emerging as others are left behind.
Subjects
Art
/
Art Criticism
/
Modern Art
/
Contemporary Art
/
Modernism
/
Postmodernism
/
---
Smith, Terry (NHC Fellow, 2007–08), ed. Antinomies of Art and Culture: Modernity, Postmodernity, Contemporaneity. Edited by Terry Smith, Okwui Enwezor, and Nancy Condee. Durham, NC: Duke University Press, 2008.