By Myra Jehlen (NHC Fellow, 1985–86)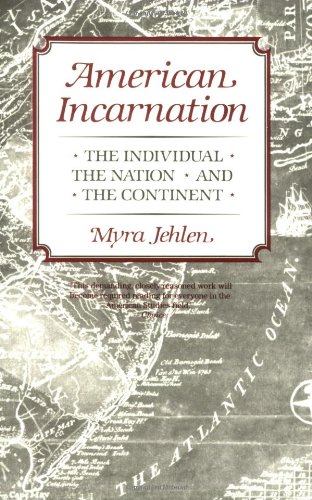 Cambridge, MA: Harvard University Press, 1986
From the publisher's description:
In exploring the origins and character of the American liberal tradition, Myra Jehlen begins with the proposition that the decisive factor that shaped the European settlers' idea of "America" or the "American" was material rather than conceptual—it was the physical fact of the land. European settlers came to a continent on which they had no history, bringing the ideology of liberal individualism, which they projected onto the land itself. They believed the continent proclaimed that individuals were born in nature and freely made their own society. An insurgent ideology in Europe, this idea worked in America paradoxically to empower the individual and to restrict social change.
Jehlen sketches the evolution of the concept of incarnation through comparisons of American and European eighteenth-century naturalist writings, particularly Emerson's Nature. She then explores the way incarnation functions ideologically—to both enable and curtail action—in the writing of fiction. Her examination of Hawthorne and Melville shows how the myth of the New World both licensed and limited American writers who set out to create their own worlds in fiction. She examines conflicts between the exigencies of narrative form and the imperatives of ideology in the writings of Franklin, Jefferson, Emerson, and others. Jehlen concludes with a speculation on the implication of this original construction of "America" for the United States today, when such imperial concepts have been called into question.
Subjects
History
/
Literary Criticism
/
Liberalism
/
Individualism
/
American History
/
Intellectual History
/
---
Jehlen, Myra (NHC Fellow, 1985–86). American Incarnation: The Individual, the Nation, and the Continent. Cambridge, MA: Harvard University Press, 1986.