By Gordon Teskey (NHC Fellow, 1990–91; 2014–15)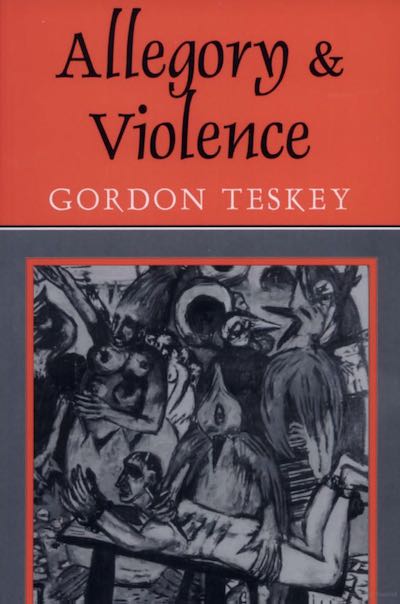 Ithaca, NY: Cornell University Press, 1996
From the publisher's description:
The only form of monumental artistic expression practiced from antiquity to the Enlightenment, allegory evolved to its fullest complexity in Dante's Commedia and Spenser's Faerie Queene. Drawing on a wide range of literary, visual, and critical works in the European tradition, Gordon Teskey provides both a literary history of allegory and a theoretical account of the genre which confronts fundamental questions about the violence inherent in cultural forms. Approaching allegory as the site of intense ideological struggle, Teskey argues that the desire to raise temporal experience to ever higher levels of abstraction cannot be realized fully but rather creates a "rift" that allegory attempts to conceal. After examining the emergence of allegorical violence from the gendered metaphors of classical idealism, Teskey describes its amplification when an essentially theological form of expression was politicized in the Renaissance by the introduction of the classical gods, a process leading to the replacement of allegory by political satire and cartoons. He explores the relationship between rhetorical voice and forms of indirect speech (such as irony) and investigates the corporeal emblematics of violence in authors as different as Machiavelli and Yeats. He considers the large organizing theories of culture, particularly those of Eliot and Frye, which take the place in the modern world of earlier allegorical visions. Concluding with a discussion of the Mutabilitie Cantos, Teskey describes Spenser's metaphysical allegory, which is deconstructed by its own invocation of genealogical struggle, as a prophetic vision and a form of warning.
Subjects
Literature
/
Literary Theory
/
Literary Criticism
/
Allegory
/
Rhetoric
/
Violence
/
---
Teskey, Gordon (NHC Fellow, 1990–91; 2014–15). Allegory and Violence. Ithaca, NY: Cornell University Press, 1996.