Edited by Scott E. Casper (NHC Fellow, 2005–06), Jeffrey D. Groves, Stephen W. Nissenbaum, and Michael Winship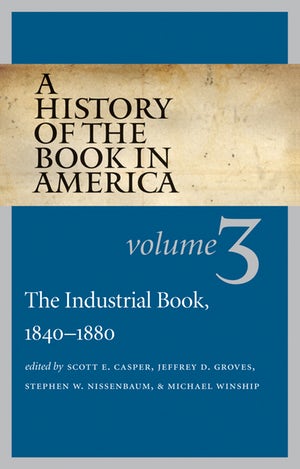 Chapel Hill: The University of North Carolina Press, 2007
From the publisher's description:
Volume 3 of A History of the Book in America narrates the emergence of a national book trade in the nineteenth century, as changes in manufacturing, distribution, and publishing conditioned, and were conditioned by, the evolving practices of authors and readers. Chapters trace the ascent of the "industrial book"--a manufactured product arising from the gradual adoption of new printing, binding, and illustration technologies and encompassing the profusion of nineteenth-century printed materials--which relied on nationwide networks of financing, transportation, and communication. In tandem with increasing educational opportunities and rising literacy rates, the industrial book encouraged new sites of reading; gave voice to diverse communities of interest through periodicals, broadsides, pamphlets, and other printed forms; and played a vital role in the development of American culture.
Subjects
History
/
Reading
/
Book History
/
Books
/
Publishing
/
---
Casper, Scott E. (NHC Fellow, 2005–06), ed. A History of the Book in America. Vol. 3, The Industrial Book, 1840-1880. Edited by Scott E. Casper, Jeffrey D. Groves, Stephen W. Nissenbaum, and Michael Winship. Chapel Hill: The University of North Carolina Press, 2007.