By Kathryn Starkey (NHC Fellow, 2008–09)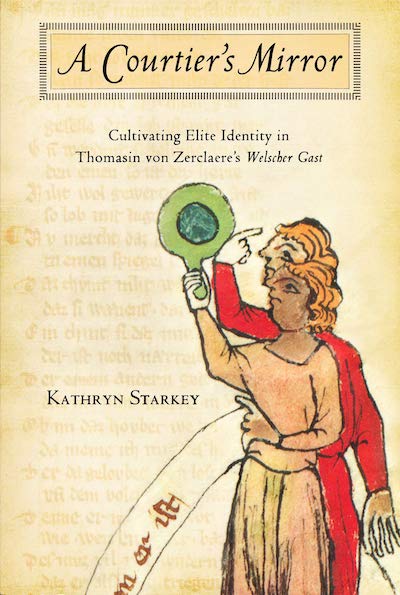 Notre Dame, IN: University of Notre Dame Press, 2013
From the publisher's description:
A Courtier's Mirror establishes the unique importance of Thomasin von Zerclaere's Welscher Gast as a document of social practices and concerns in medieval German-speaking court society. This epic-length illustrated didactic poem enjoyed immense popularity in the Middle Ages, resulting in twenty-five redactions produced over two hundred and fifty years. Through a detailed study of word and image, Kathryn Starkey argues that this poem offered instruction, affirmation, and an evolving image cycle in which courtly behaviors were effectively conveyed. As the first book-length study in English, A Courtier's Mirror not only provides a framework for understanding the Welscher Gast and its images, but further explores the rich manuscript reception of the poem and the careful cultivation of a distinct elite identity. Throughout its continued popularity, Starkey argues that the illustrated poem participates in the construction of elite secular identity for an audience that was concerned with distinguishing itself socially and emancipating itself from clerical society. As its audience shifts from rural ministerial family to urban burgher, so the staging of the poem also changes. Starkey selects redactions to show that while the text received only minor revisions over the years, the extensive illumination program and the poem's formatting changed significantly and with deliberate intent. She identifies the 1340 Gotha redaction as the most striking example of a redesigned and expanded image cycle intended to convey models of courtly behavior. Starkey places this manuscript, in particular, in its historical context and convincingly argues for its special place within the reception of Der Welsche Gast.
Supported by extensive appendices and a full set of color illustrations of the Gotha manuscript, as well as select illustrations from other manuscripts, A Courtier's Mirror presents vital new research on the complexity of the interrelation of text and image. As such, it will be of interest to scholars of medieval studies, art history, manuscript illustration, and the history of the book.
Subjects
History
/
Literature
/
Literary Criticism
/
Epic Poetry
/
Middle Ages
/
Nobility
/
Royal Courts
/
Didacticism
/
Wälsche Gast
/
von Zerclaere Thomasin
/
---
Starkey, Kathryn (NHC Fellow, 2008–09). A Courtier's Mirror: Cultivating Elite Identity in Thomasin Von Zerclaere's Welscher Gast. Notre Dame, IN: University of Notre Dame Press, 2013.