Karima K. Jeffrey-Legette (NHC Fellow, 2022–23)
Project Title
Black Girls Write the Future: A Scholarly Investigation of Speculative Fiction by or about Women and Girls of African-Descent
Ruth W. and A. Morris Williams, Jr. Fellowship, 2022–23
Associate Professor of English, Hampton University
Email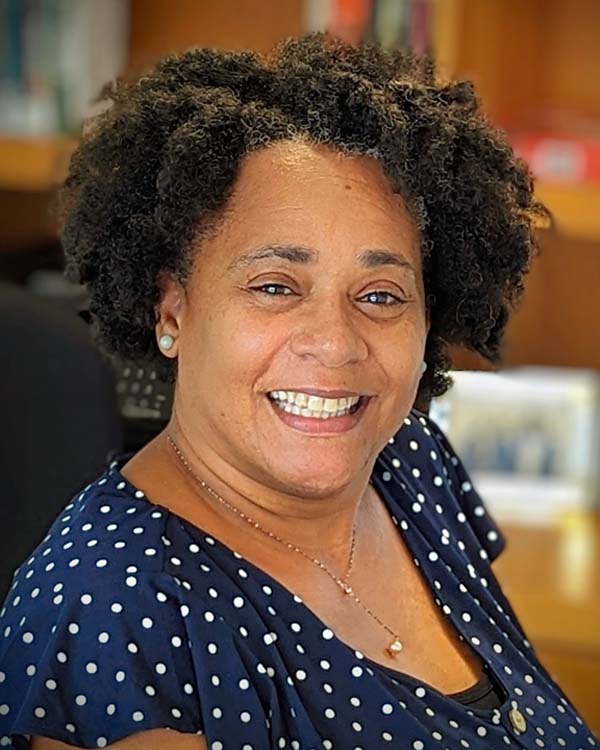 Karima K. Jeffrey-Legette is associate professor of English at Hampton University, with degrees from Swarthmore College (BA with Honors), Lehman College-CUNY (MA), and Howard University (PhD). She has served as interim chair of the English and Foreign Languages Department, Writing Across the Curriculum Coordinator, UNCF/Mellon Programs Coordinator, ETS-AP Pre-Testing Campus Coordinator; and Certifying Campus Advisor for the Benjamin A. Gilman International Scholarship, working closely with the Honors College and International Office.
Interested in African-diasporic literature and multi-ethnic American studies, she has written and lectured extensively on topics related to cultural/cross-cultural expression. Her particular interest is in the response that scholars/writers have to colonization or oppression. Noted works include a forthcoming book, WATCH IT!, which examines the paradoxical nature of increasingly popular but oftentimes problematic depictions of African-descended women/girls in contemporary cinema involving the supernatural, science fiction, horror, and/or superheroes. Her current project Black Girls Write/Right The Future: Speculative Fiction by or about Black Women and Girls continues the conversation, examining contributions to fiction, music, and animation/comics. In this instance, unlike the former text, focal consideration is given to women as the content-creators. Her website can be found here.
Jeffrey-Legette has received numerous fellowships, honors, and awards, including distinctions from the UNCF/Mellon Programs, the University of Richmond Tocqueville Seminars, the New York University Faculty Resource Network (NYU-FRN), and the Historically Black Colleges/Universities-Faculty Development Network (HBCU-FDN).
Selected Publications
Jeffrey-Legette, Karima K. WATCH IT!: Speculative Films and Moving Images by or about Black Women and Girls. Lanham, MD: Lexington Books, 2023. Forthcoming.
Jeffrey, Karima K. "Mother of a New World? Stereotypical Representations of Black Women in Three Post-Apocalyptic Films." Journal of Feminist Scholarship 6, no. 6 (Spring 2018): 1–12.
Jeffrey, Karima K. "George Lamming's 'The Boy and the Sea': A Littoral Artist's Experimentation with Language and a Postcolonial Examination of the Self." Anthurium: A Caribbean Studies Journal 12, no. 2 (2015): 1–16.
Jeffrey, Karima K. "Littoralia or the Littoral as Trope: Developing a Paradigm of Post-coloniality." The C.L.R. James Journal. 6, no. 1 (2010): 99-126.
Jeffrey, Karima K. "Langston Hughes." In Icons of African American Literature: The Black Literary World, edited by Yolanda Williams Page, 139–70. Santa Barbara, CA: Greenwood, 2011.
Return to current fellows