Ifeyinwa Genevieve Okolo, 2021–22
Project Title:
Sexualities and (Dis)Abilities: (Re)Valuing Being Sexual Humans through Body Narratives
STIAS Iso Lomso Fellowship, 2021-22
Senior Lecturer, Department of English and Literary Studies, Federal University Lokoja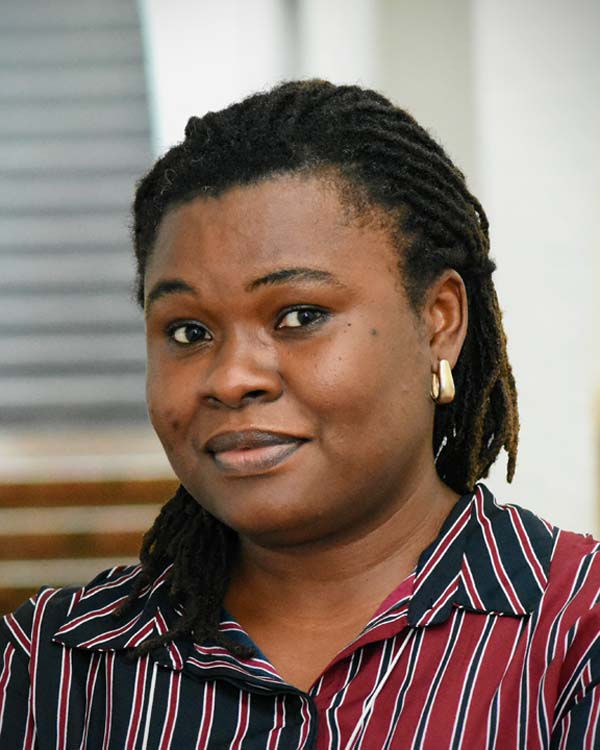 Ifeyinwa Genevieve Okolo has a PhD in English (African fiction) from the University of Ibadan, Nigeria. She teaches African prose fiction, sexuality and gender studies, and African literature at Federal University Lokoja, Nigeria. Her major research interest is in gender and sexuality discourses in African literature. She partly explores these in her creative and critical writings.
Currently, she is working on the intersection of sexuality and disability in African prose fictional works.
Selected Publications
Okolo, Ifeyinwa Genevieve. "Unsettled Subjects: Sex Work in Chika Unigwe's On Black Sisters' Street." English Studies in Africa 62, no. 2 (December 2019): 112-23.
Okolo, Ifeyinwa Genevieve. "Sexual Violence and Satire in Selected Stand-Up Acts of Okey Bakassi and Basket Mouth." Ibadan Journal of Humanistic Studies 28 (June 2018): 139-53.
Okolo, Ifeyinwa Genevieve. "Creating a Bildungsroman from a Collage: Re-reading Shimmer Chinodya's Can We Talk and Other Stories." MATATU: Journal for African Literature and Society 48 (2016): 192-204.
Okolo, Ifeyinwa Genevieve. "Interrogating Sexual Preoccupations in Tanure Ojaide's The Activist." MARANG: Journal of Language and Literature 24 (2014): 117-31.
Okolo, Ifeyinwa Genevieve. "Sex as Metaphor in Dambudzo Marechera's The House of Hunger and Black Sunlight." ONA: Journal of English Language and Literature 2 (2014): 92-104.
Return to current fellows